Cranberry Pecan Cake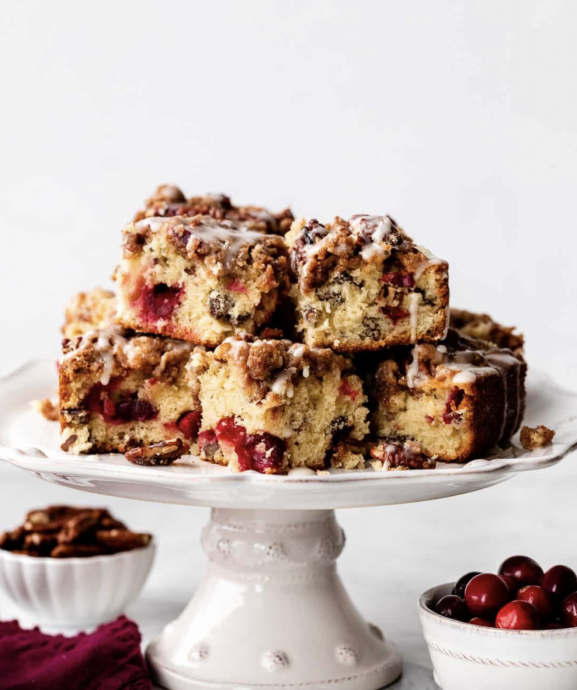 This cranberry pecan Christmas cake is tender and buttery with brown sugar cinnamon pecan crumble blanketing each bite. Cranberries and pecans are a wonderful pairing and especially during the holiday season. You'll love them together in this cake– a breakfast, brunch, snack, or dessert suited for any time of the day!
This breakfast cake is really an anytime cake. During the holiday season where routines are amiss, schedules are packed, guests pop in, school is out, and your gift wrapping snack is a spoonful of cookie dough, it seems ANY TIME is the time for cake.
And no, you don't have to save it for Christmas or celebrate Christmas to enjoy it!
Why limit a buttery soft cranberry cake dressed up with pecan brown sugar crumble to the morning? And why limit those tasty tart cranberries to Thanksgiving cranberry sauce? I have a feeling your afternoons and evenings could use the tasty pick-me-up too.
Ingredients:
Cake
1 and 1/2 cups (190g) all-purpose flour (spoon & leveled)
1 teaspoon baking powder
1/4 teaspoon baking soda
1/4 teaspoon salt
1/2 cup (115g) unsalted butter, softened to room temperature
3/4 cup (150g) granulated sugar
2 large eggs, at room temperature
1 teaspoon pure vanilla extract
1/2 cup (120g) full-fat sour cream, at room temperature
2 Tablespoons (30ml) milk or orange juice, at room temperature
2 cups (250g) fresh or frozen cranberries (do not thaw)
2/3 cup (90g) roughly chopped pecans
Crumb Topping
1/3 cup (67g) packed dark or light brown sugar
1/2 cup (63g) all-purpose flour (spoon & leveled)
1 teaspoon ground cinnamon
1/4 cup (4 Tbsp; 60g) unsalted butter, cold and cubed
2/3 cup (90g) roughly chopped pecans