Low Carb Turkey Pot Pie (Keto, Gluten Free, Nut Free)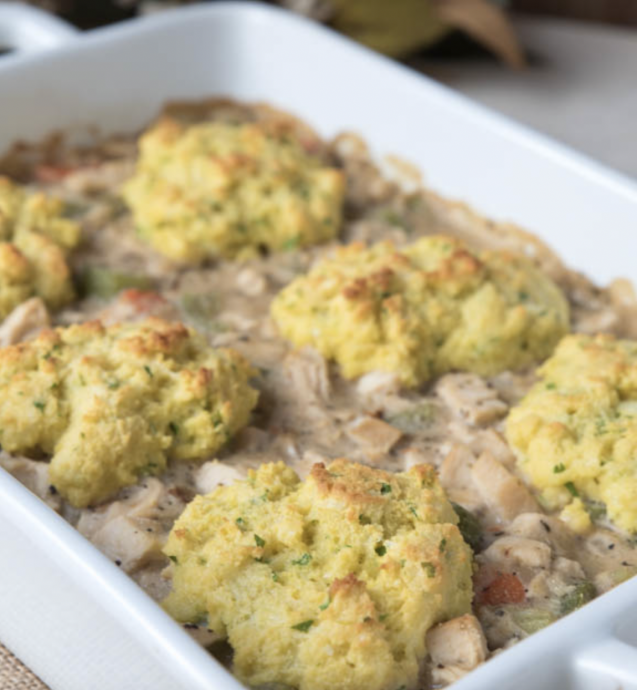 This Keto Turkey Pot Pie is the perfect family recipe for leftover turkey or even leftover chicken! It's the ultimate comfort food made gluten free, low carb, and nut free, making it an easy turkey pot pie to serve to guests with allergies! Just 7 net carbs per serving!
This turkey pot pie recipe is one of the easiest ones you'll find!
No need to make a pie crust and a top layer. Just top this homemade turkey pot pie with these easy keto low carb drop biscuit topping !
This delicious pot pie recipe makes life a whole lot easier with minimal effort to feed a family with leftovers your Thanksgiving or Christmas turkey!
Ingredients:
Turkey Pot Pie Filling
1 cup celery diced
½ cup carrots diced
3 cups chicken broth
2 tablespoon extra virgin olive oil
1 cup onion diced
2 tablespoon coconut flour
⅓ cup heavy cream
1 teaspoon xanthan gum
3 cups turkey cooked, diced
1 teaspoon Italian seasonings
¼ teaspoon salt
¼ teaspoon pepper
Keto Drop Biscuits
⅓ cup coconut flour
¼ teaspoon salt
1 tablespoon baking powder
½ teaspoon garlic powder
½ teaspoon onion powder
¼ cup butter melted
4 eggs beaten
1 tablespoon fresh basil chopped
1 teaspoon fresh parsley chopped
½ cup cheddar cheese shredded