Buffalo Chicken Meatballs with Bleu Cheese Yogurt Dip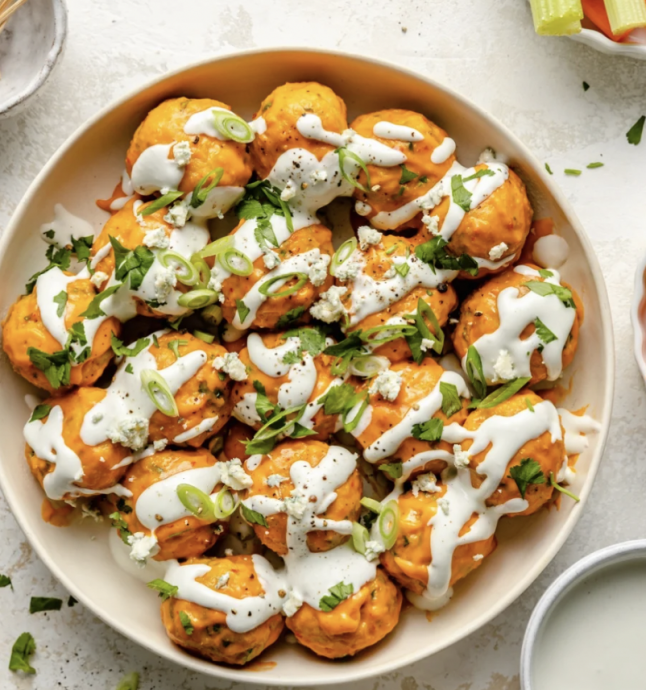 Delicious and easy buffalo chicken meatballs served with a creamy bleu cheese dip for the perfect party appetizer! These healthy buffalo chicken meatballs are made with lean ground chicken, simple mix-ins, and your fav buffalo sauce. Options to make them mild or spicy for guests, and easy to double for a larger crowd!
Making buffalo chicken meatballs was truly a no-brainer. They're super easy to make with simple ingredients but are juicy, flavorful, and oh-so saucy. I love serving these with fresh carrots and celery (a classic) plus a big drizzle or dunk of that amazing bleu cheese dip.
The best part? You can easily make them ahead of time, double them, keep them warm at a party, and so much more. Check out the full post for all of my tips and enjoy!
Ingredients:
1/2 batch bleu cheese yogurt dip
For the buffalo chicken meatballs:
1 pound lean ground chicken (around 93% lean is best)
1 egg
½ cup panko breadcrumbs
¼ cup finely diced cilantro
3 tablespoons buffalo sauce (mild, medium or hot!)
1 medium carrot, finely shredded
2 tablespoons finely diced green onion
2 cloves garlic, minced
1/4 teaspoon salt
Freshly ground black pepper
For tossing:
1/3 cup buffalo sauce
To garnish:
Diced green onion
Diced cilantro