Drop Biscuits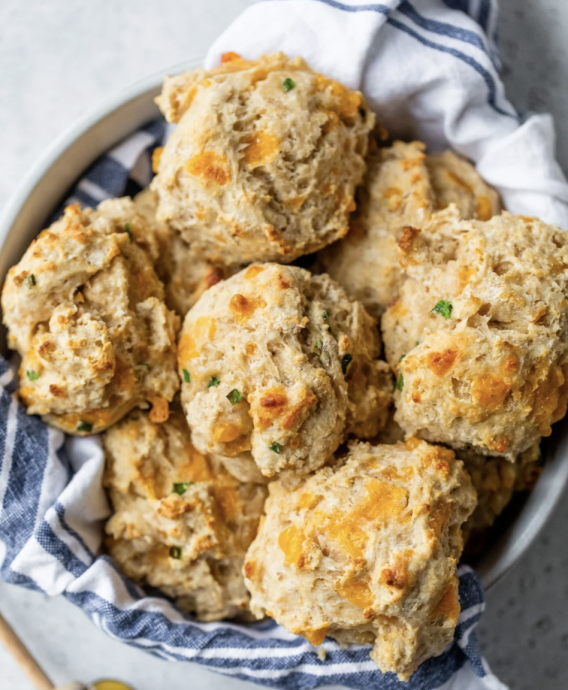 Tender, fluffy Drop Biscuits are about to become an indispensable part of your nightly routine. Unlike rollout biscuits, these easy drop biscuits come together FAST. They're the best biscuits recipe ever! Unlike many butter-and-flour centric baking recipes (ahem, pie crust), making an amazing batch of homemade drop biscuits doesn't require grandma-level expertise.
There's no kneading, proofing, rolling, shaping, or (if your baking exploits go anything as mine do at times) four-letter words.
Unless the word you are referring to is MMMM, in which case that terminology certainly applies to these quick and easy drop biscuits!
Ingredients:
1/4 cup butter cold
1 cup all-purpose flour
1 cup whole wheat pastry flour or swap white whole wheat flour or regular whole wheat flour*
1 tablespoon baking powder (I recommend aluminum free)
1/2 teaspoon kosher salt
1 cup whole milk or buttermilk
3 tablespoons plain Greek yogurt (I used nonfat)
1 teaspoon honey
OPTIONAL TOPPINGS/MIX-INS**
Grated parmesan and finely chopped fresh chives try adding a pinch of garlic powder to the dry ingredients with this one!
Shredded sharp cheddar and ground black pepper
Shredded gruyere and finely chopped fresh rosemary or thyme