Pizza Bagels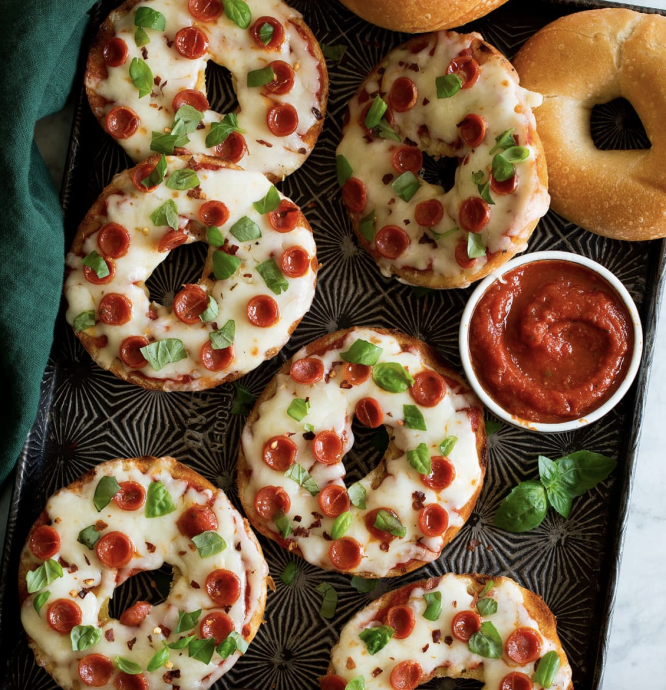 Nostalgic Pizza Bagels! A classic childhood favorite made with store-bought fresh bagels and pizza sauce, lots of shredded mozzarella, and any of your favorite toppings. They are unbelievably easy to make and surprisingly delicious!
If you grew up in the 90's like I did you can likely relate to this recipe. Lots of memories of this classic that I've forgotten for too long. But the pizza bagels I remember were pretty bland and boring. Here we've upgraded them with bakery fresh bagels, some herbs, and garlic powder seasoning. And we use the best cooking method.
That is to toast them in the oven BEFORE you add the sauce so they don't get soggy. Then finish them under the broiler for a nice toasty flavor and quick finish.
Though these make a delicious after school snack they aren't just for kids. Even adults loves these!
Ingredients:
3 bakery fresh plain bagels, evenly halved
2 Tbsp extra virgin olive oil
1/2 tsp Italian seasoning
1/4 tsp (heaping) garlic powder
2/3 cup pizza sauce, store bought or homemade
1 1/2 cups shredded mozzarella cheese
1/3 cup mini pepperoni, or other toppings of choice
Chopped fresh basil, grated parmesan, red pepper flakes (optional ingredients to finish)