Goat Cheese Soufflé with Fresh Herbs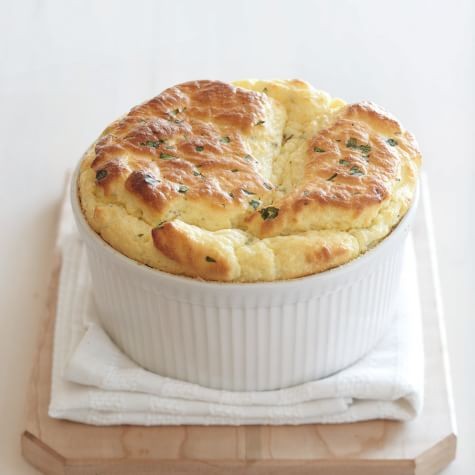 Herbed Cheese Souffles-so light and fluffy, so delicate. And you can make them ahead then bake just before ready to serve. They are both marvellously simple and a little bit fancy. They're perfect for those weeknights when the cupboards are looking a little bare.
I have to tell you this is a breakfast dish that you're going to thank me for. It'll impress your family and friends and it's very little work. These Herbed Cheese Souffles are perfect for Breakfast, brunch or an afternoon luncheon with friends. Fresh, tangy goat cheese enhances a deceptively easy herb-flecked soufflé accented by tarragon, thyme and lemon. Serve it for brunch, or for a light vegetarian supper with a butter lettuce salad and slices of rustic bread. Serve with a lemony green salad and a sprinkle of dried red chilli flakes.
Ingredients:
Unsalted butter for greasing
Freshly grated Parmesan cheese or dried bread crumbs for sprinkling
1/4 cup (2 fl. oz./60 ml) extra-virgin olive oil
2 large shallots, minced
5 Tbs. (1 1/2 oz./45 g) all-purpose flour
1 1/4 cups (10 fl. oz./310 ml) whole milk
1/4 cup (2 fl. oz./60 ml) dry white wine
6 eggs
2 egg whites
1 tsp. coarse kosher salt
1 Tbs. fresh thyme or lemon thyme
2 1/2 tsp. minced fresh tarragon
1 1/2 cups (1/2 lb./250 g) crumbled soft fresh goat cheese
Freshly ground pepper, to taste