Chunky Monkey Banana Baked Oatmeal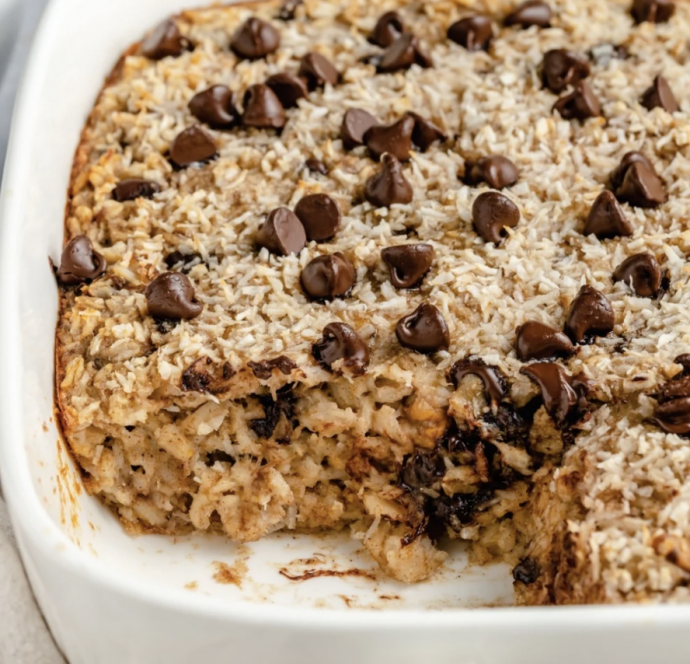 Delicious chunky monkey banana baked oatmeal packed with healthy fats from coconut and walnuts. This easy, healthy banana baked oatmeal recipe is freezer-friendly and naturally sweetened with bananas & pure maple syrup for the perfect breakfast! Add chocolate chips to make it extra special.
This chunky monkey banana baked oatmeal is seriously the best way to wake up in the morning. It's easy to make, packed with whole grains, healthy fats & protein to keep you satisfied, and it pretty much tastes like your fav banana bread.
Ingredients:
Wet ingredients:
3 ripe bananas, mashed (about 1 ⅓ cups mashed ripe banana)
2 eggs
1 teaspoon vanilla extract
1 (15 ounce) can light coconut milk (about 1 ⅔ cup coconut milk)
2 tablespoons pure maple syrup
Dry ingredients:
2 ¼ cups gluten free rolled oats
2 teaspoons baking powder
1 teaspoon cinnamon
¼ teaspoon salt
Mix-ins:
½ cup unsweetened shredded coconut, plus 2 extra tablespoons for topping
½ cup chopped walnuts
1/3 cup chocolate chips (feel free to use your favorite!), plus 2 tablespoons for sprinkling on top