Gluten-Free Gingerbread Loaf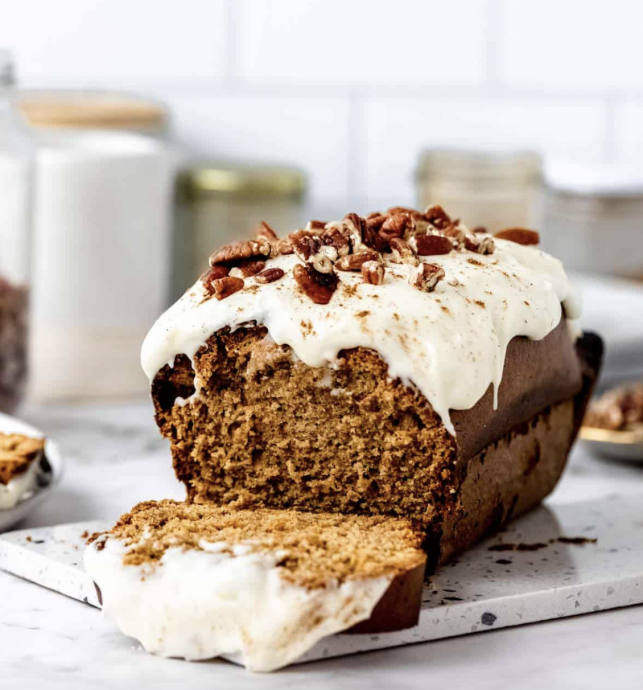 This traditional Gluten Free Gingerbread Loaf with cream cheese frosting is filled with irresistible warm spices and rich, caramelized flavor, and a moist, tender crumb. You'll love slicing into this spicy homemade gingerbread throughout the holidays and beyond!
This is one of my favorite festive recipes for an old-fashioned, gluten-free gingerbread loaf. There's just something about the intense spice, deliciously tender crumb, and deep, caramelized flavors that put me in a Christmassy mood.
I love how the flavors of cinnamon, ginger, nutmeg, and allspice play off of the molasses in this gingerbread recipe. If you want your whole house to smell like a Gingerbread Cookie, this is the way to do it.
Also, let's have a moment of appreciation for the cream cheese frosting. It's honestly so simple, yet so creamy and light, it literally melts away as you bite into it. Combined, the spiced gingerbread and sweet-tangy frosting are a force to be reckoned with!
Ingredients:
2 ½ cups Bob's Red Mill 1:1 Gluten Free Flour
2 teaspoons baking powder
1 teaspoon salt
1 Tablespoon cinnamon
3 teaspoon ground ginger
1 teaspoon ground nutmeg
2 teaspoons ground all spice
3 large eggs
1 ½ cups dark brown sugar
2 teaspoons vanilla extract
3 Tablespoons molasses
¾ cup vegetable oil
1 cup sour cream
For the cream cheese frosting:
8 oz. tub of cream cheese
2 cups powdered sugar
chopped toasted pecans for topping