Cajun Shrimp and Rice Skillet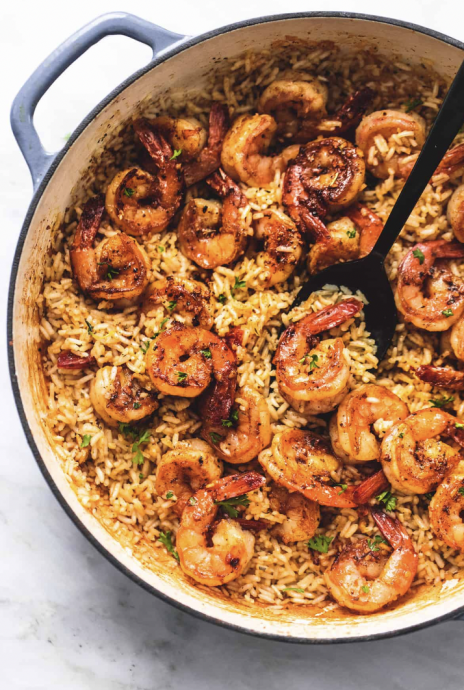 Cajun Shrimp and Rice Skillet is a one-pot wonder full of flavorful shrimp and rice with a Cajun seasoning that the entire family will enjoy!
Although this might contain just a few more ingredients than my 5-ingredient recipes (like my Sweet Paprika Chicken), don't let that scare you off. This Cajun shrimp comes together in just 30 quick minutes and leaves plenty of room for a little kitchen dancing here and there with your significant other or little ones. (I'm not the only one that dances while she cooks, right?)
First, I whisked together all the spices for the Cajun seasoning in a bowl, then set that aside. Next, I melted the butter in a skillet (you can use a heavy-bottomed pot or Dutch oven as well, or whatever you have on hand), then added the garlic, half the spice mixture, and the rice to the butter. I like to stir that all around a bit and make sure the rice gets good and coated with the spices and butter before adding in the chicken broth.
Ingredients:
1 ⅓ cups uncooked long grain white rice
2 ⅔ cup chicken broth
1 pound large or jumbo shrimp - peeled and de-veined
4 tablespoons butter - melted, divided
1 teaspoon minced garlic
cajun seasoning - see below
cajun seasoning
1 ½ teaspoons paprika
1 teaspoon salt
1 teaspoon garlic powder
½ teaspoon cracked black pepper
½ teaspoon onion powder
½ teaspoon dried oregano - may sub an Italian herb blend or Herbs de Provence
½ teaspoon cayenne pepper
¼ teaspoon crushed red pepper flakes