White Chocolate Cranberry Cupcakes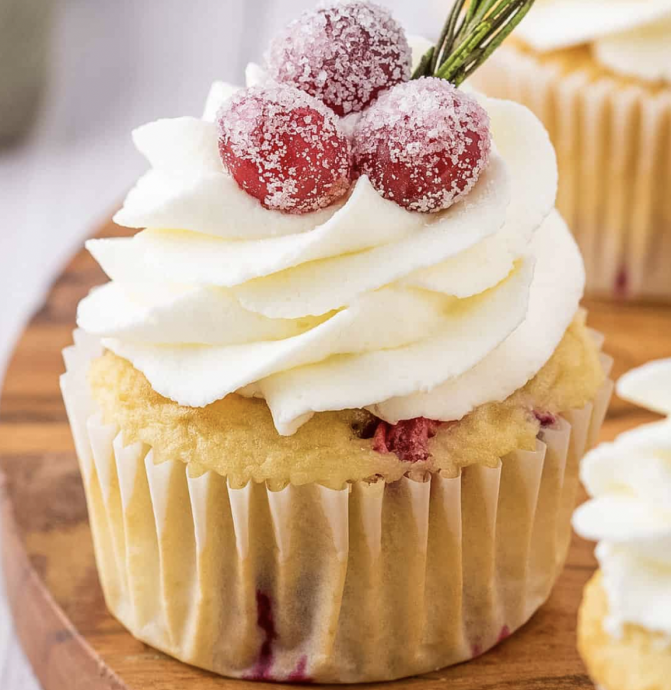 Fluffy and soft vanilla cupcakes studded with tart cranberries, topped with a decadent white chocolate buttercream frosting, and simple homemade sugared cranberries! Holiday baking has never been more delicious!
As impressive as massive layer cakes are, I definitely prefer cupcakes. They're so cute, easy to decorate, easily feed a crowd, and are actually easily freeze-able!
This recipe marries a few great holiday flavors… warm vanilla, sweet white chocolate, and tart cranberry.
Plus the topping of sugared cranberries takes these cupcakes from good to great!
Sugared cranberries are actually a lot easier to make than you may think, and they have that show-stopping winter-y look.
I know you'll love these cranberry cupcakes as much as we do… so let's learn how to make them!
Ingredients:
Sugared cranberries
2 cups water
3 cups granulated sugar divided
2 cups frozen or fresh whole cranberries
Cupcakes
1 cup all purpose flour
2 tsp baking powder
1/4 tsp kosher salt
3/4 cup granulated sugar
2 large eggs
1/2 cup unsalted butter softened to room temperature
1 1/2 tsp vanilla extract
1/2 cup buttermilk
1 1/2 cups fresh cranberries chopped
1/2 cup white chocolate chips
White chocolate buttercream
12 oz white chocolate chips
1 cup unsalted butter softened to room temperature
3 cups powdered sugar