Skillet French Onion Chicken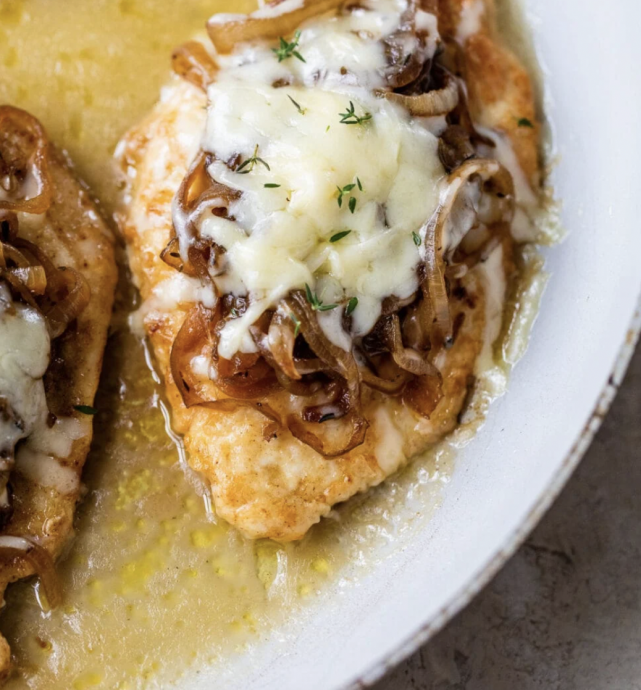 If you love caramelized onions and melted cheese, you will love this Skillet French Onion Chicken, a great way to jazz up chicken breasts!
I'm more of a dark-meat girl, so my chicken breast recipes really need to be jazzed up so they taste delish! Thin chicken breast cutlets are cooked and topped with caramelized onions and melted Gruyère cheese in this French Onion Chicken recipe. These are so wonderful and easy to make. For more chicken breast recipes, try this Spicy Vodka Chicken Parmesan, Bacon-Wrapped Air Fryer Chicken Breast, and Spinach and Feta-Stuffed Chicken Breasts. And for more French onion recipes, don't miss my French Onion Soup and French Dip Sandwich.
Ingredients:
4 boneless skinless chicken cutlets, (16 to 20 ounces total)
2 teaspoons olive oil
2 medium yellow onions, thinly sliced
1 tablespoon balsamic vinegar, or more as needed
1 tablespoon Worcestershire sauce
½ teaspoon dried thyme or 1 teaspoon fresh thyme leaves
3 ounces Gruyère cheese, coarsely grated (about 1 cup)
½ cup all-purpose flour, or gluten-free flour mix*
1 teaspoon kosher salt
pepper, to taste
½ teaspoon paprika
2 teaspoons unsalted butter
1/2 cup chicken broth