One-Pan Chicken and Spinach Orzo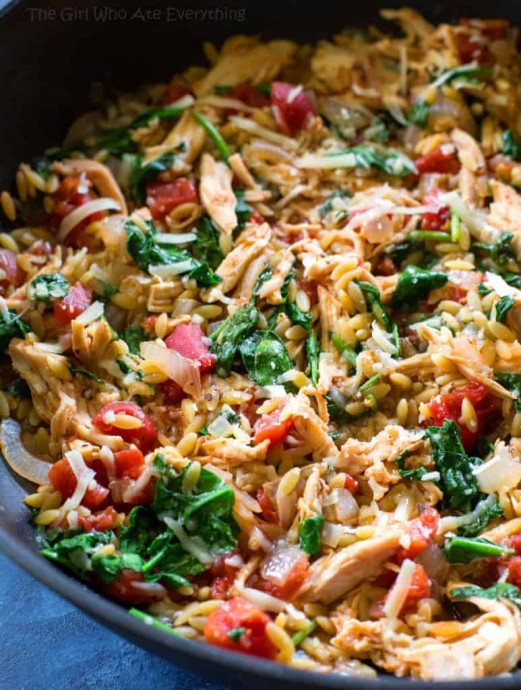 One-Pan Chicken and Spinach Orzo is an easy weeknight dinner with chicken and spinach in a creamy tomato orzo.
Simple, one-pan dinners are all I have the energy for. You know I love my Mexican one-pan dinners like this One-Pan Chicken Enchilada Skillet and this One-Pan Mexican Chicken and Rice. Now, since my family loves Italian food it was time for an Italian version. If it's a chicken recipe even better. I suggest using about 1 pound boneless skinless chicken breasts cut into 1-inch cubes. Brown it in 1 tablespoon of olive oil for 5-6 minutes then add the onion and continue the recipe as written.
There was a debate in our house whether this one-pan chicken dinner should have spinach or broccoli in it. Usually my family chooses broccoli for everything and I think it would work well here too but spinach was the winner. You can use broccoli instead of spinach, just make sure you chop it into bite size pieces and add it when you begin to cook the orzo so it has enough time to steam. You can have this One-Pan Italian pasta dinner can be on the table in under 20 minutes. Sprinkle some Parmesan on top and enjoy! You can also use mozzarella instead of Parmesan. I love the saltiness of the Parmesan but mozzarella is great too.
Ingredients:
1 tablespoon olive oil
1/2 white onion, diced finely
3 cloves garlic minced
1 cup chicken broth (I like Better Than Bouillon Base)
3/4 cup uncooked orzo pasta
1 (14.5 ounce) can diced tomatoes undrained (if you can get the version that has basil and oregano great!)
1 teaspoon italian seasonings
1/2 teaspoon kosher salt (more to taste later)
1/4 teaspoon crushed red pepper flakes (optional if you like heat)
2 cups shredded rotisserie chicken (see notes)
3 cups spinach leaves (measured then chopped)
1/4 cup grated Parmesan cheese