Nectarine, blueberry & bourbon pie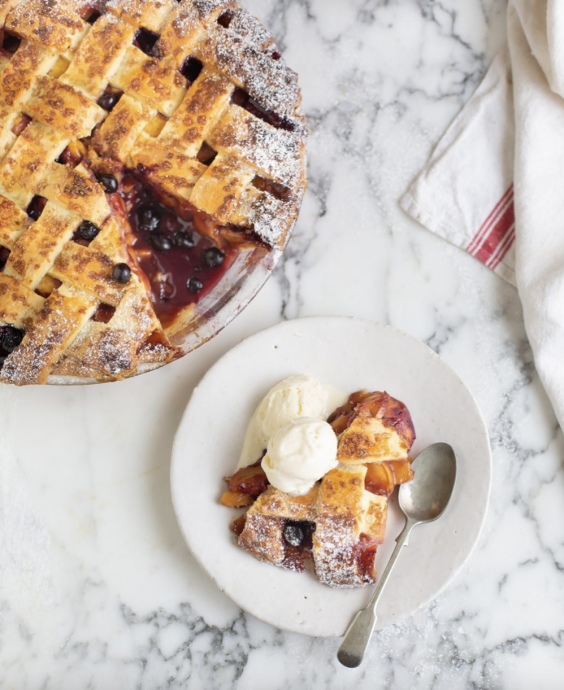 This nectarine, blueberry and bourbon pie from Di Bibby's beautiful new cookbook is all it's cracked up to be. Nectarines are in full season so this is a showstopper dessert you will want to be making right now – in the Southern Hemisphere of course. If you are reading this in the Northern Hemisphere you will want to bookmark this recipe for summer. The slightly boozy fruit bubbles away under a cloak of the crispest pastry and got me wondering why fruit pies aren't as big a thing as they are in America. This one is a keeper.
Ingredients:
Pastry:
450gm cake flour
45ml (3 Tbsp) icing sugar
½ tsp fine salt
300gm cold salted butter cut into cubes
1 large free-range egg yolk
1 Tbsp lemon juice
45–60 ml ice-cold water
Filling:
1.2 kg nectarines (whole weight) – about 8 – 12 depending on size – washed and cut into 1 cm slices
250ml /1 cup fresh blueberries (I'm sure frozen and thawed would be fine too)
60ml / ¼ cup cake flour
120gm demerara sugar
80ml / 1/3 cup excellent quality berry jam
2 Tbsp / 30ml lemon juice
2 Tbsp / 30ml Bourbon (optional)
Egg wash (1 egg whisked with 15ml water) or use the leftover egg white from the egg yolk used in this recipe
1 Tbps demerara sugar for finishing.