Giant grilled cheese with hot honey butter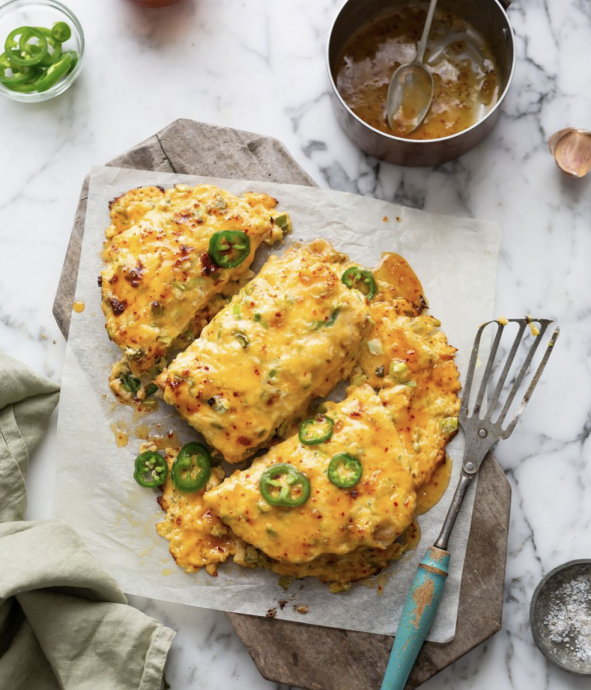 This giant grilled cheese with hot honey butter is a crowd-pleasing snack that you are going to love. The thick cheesy topping bubbles in the oven and gets covered with a spicy hot honey butter dressing that takes it to a new level.
This is a very large and fancy cheese on toast designed to share. Cut it up as a snack or add a salad to make a light lunch. If you don't mind the sweetness, you could add a fried egg to make it a more substantial meal.
The inspiration behind the recipe comes from growing up eating Jucy Lucy's open grilled cheese sandwiches. I loved the one with spring onion. I often miss this healthy fast food chain that always made the best fruit juices.
Ingredients:
Grilled cheese:
Half a medium loaf of bread such as country loaf or ciabatta
200gms Kerrygold Mature Cheddar cheese, grated
125ml (1/2 cup) sour cream
50gms yoghurt (3 Tbsp)
6 spring onions finely sliced (the white and green parts)
Sliced jalapeno (optional)
Hot honey butter:
40gms salted Kerrygold butter
1 clove garlic, minced
2 heaped Tbsp runny honey
3/4 of a tsp Aleppo pepper (or use dried chilli flakes and paprika)
A good pinch of salt