Easy tomato & spinach baked ravioli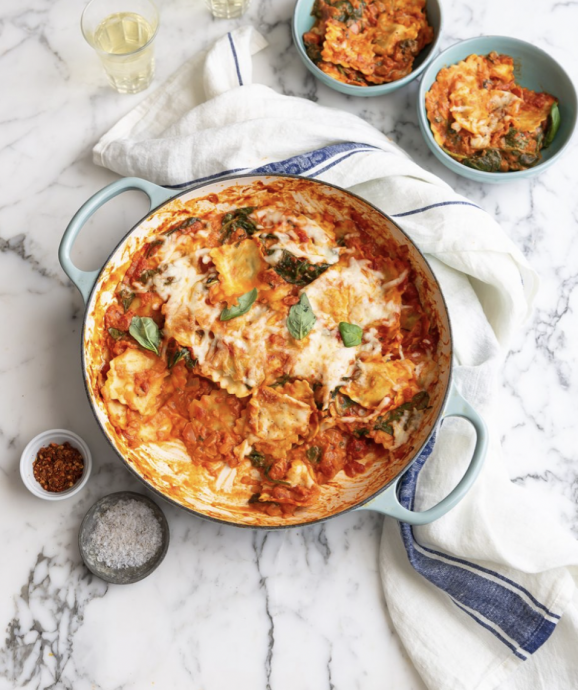 This recipe for easy tomato & spinach baked ravioli is one of the easiest and most delicious pasta dishes you can make for a weeknight supper. Cheating ever-so-slightly with the store-bought spinach and ricotta ravioli to make it easier. The tomato sauce is made creamy with the addition of Prèsident Thick & smooth cream cheese.
Using cream cheese instead of cream makes this sauce so luscious and adds a delicious savoury flavour. You simply stir this into the tomato sauce which has been bubbling away on its own on the stove.
Ingredients:
1 onion finely chopped
3 garlic cloves, crushed
Pinch of dried chilli flakes (as hot as you like it)
2 x 410gms tins of Italian chopped peeled tomatoes
¼ cup (60ml) dry white wine
1 vegetable stock sachet (or cube)
Salt & pepper
110gms (approx. 1/3 cup) Prèsident Thick & smooth cream chees
¼ cup lightly packed fresh basil leaves, roughly chopped
80gms baby spinach leaves
500gms store-bought spinach & ricotta ravioli
1 cup grated mozzarella
Fresh basil leaves to serve (optional)