Pasta with Smoky Shiitakes and Winter Greens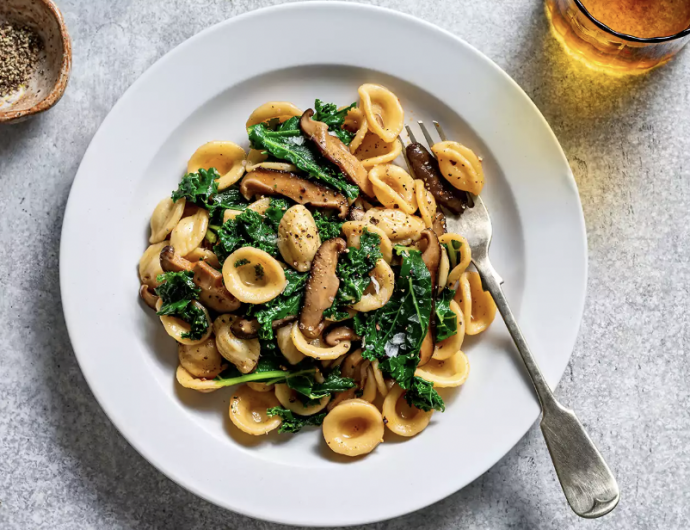 Shoyu (soy sauce) is a pantry staple for a reason; it adds a hit of umami to anything it touches. The smoked version has everything you love about soy sauce, with a wonderful smokiness. It's kind of a splurge, but a little goes a long way. I love adding a few drops to cocktails when I want a little oomph.
Look for smoked shoyu in Japanese markets, specialty grocers, or online. If you can't source it, feel free to use regular soy sauce or tamari with a little liquid smoke, or skip the smoky flavor entirely—it'll still be a satisfying dish.
Use What You Have
When prepping your mushrooms, be sure and save the stems for making stock. I like meaty shiitakes best for this dish, but other mushrooms are fine as long as they're in bite-size pieces. Likewise, any winter green (or even spinach) will do.
This earthy pasta dish is best balanced with something fresh and crisp, like our Pear and Greens Salad.
Ingredients
3 tablespoons olive oil
1 large shallot, minced (about 1/4 cup)
8 ounces shiitake mushrooms, stemmed and sliced (save the stems for the stock pot!)
4 tablespoons smoked shoyu, or regular soy sauce plus 1/8 teaspoon liquid smoke, more to taste
1 teaspoon smoked paprika, more to taste
1 teaspoon ground black pepper, more to taste
Kosher salt
16 ounces dried orecchiette pasta
5 ounces winter greens (such as kale or chard), coarsely chopped (about 4 cups)