Chocolate Pecan Pie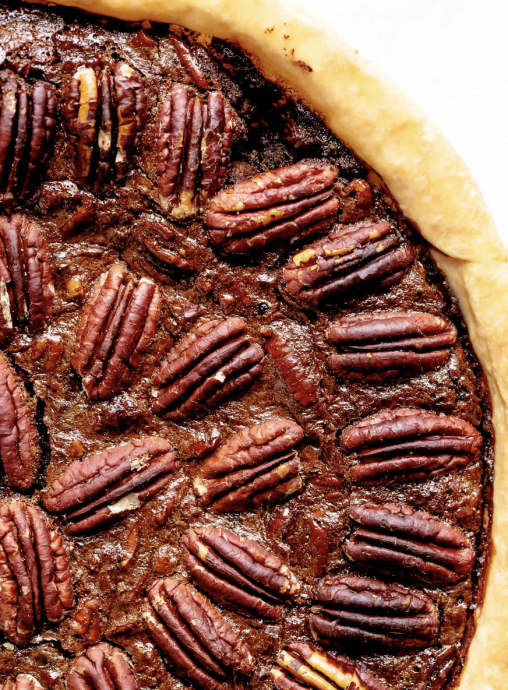 Not just any chocolate pie…. this Chocolate Pecan Pie is a cross between a pecan pie, chocolate fudge, molten brownies and a hot fudge chocolate pudding. Spiked with optional bourbon, our recipe is addictive and irresistible.
A fudgy and rich, chocolate molten filling bakes underneath a chewy layer that could almost be passed as a crackly topped molten brownie. The toasted pecans in this Chocolate Pecan Pie offer the perfect crunch, with the perfect balance of flavour and natural pecan flavours shining through. The bittersweet chocolate adds richness and depth to a classic pecan pie, while a hint of bourbon makes it feel like you're eating at a top restaurant.
The most intensely flavoured pecan pie you will ever make. This pie will make the end of your Thanksgiving evening that much better.
Ingredients:
2 cups pecans
6 ounces 70% chocolate roughly chopped into pieces (or semisweet chocolate)
1/2 cup unsalted butter melted
2 tablespoons unsweetened cocoa powder (I use Hershey's)
3/4 cup golden syrup maple syrup, rice syrup or light corn syrup
3/4 cup light brown sugar packed
2 tablespoons all purpose flour
2 tablespoons bourbon optional
1 tablespoon pure vanilla extract
3/4 teaspoon salt
4 large eggs whisked
9 inch pie crust or pie shell