Red Velvet Chocolate Chip Cookies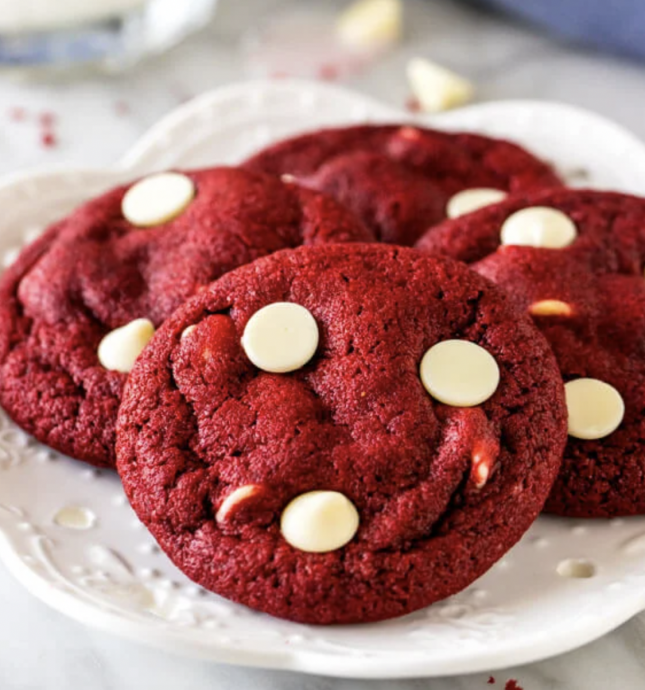 These red velvet chocolate chip cookies have the most delicious red velvet flavor and are filled with white chocolate chips. They turn out soft and chewy with a beautiful red color makes them perfect for Valentine's Day, Christmas or whenever you're craving red velvet.
These red velvet chocolate chip cookies are the perfect combination of classic red velvet cake and chewy chocolate chip cookies. They have:
a hint of cocoa powder for the perfect red velvet flavor
a beautiful, deep red color
a soft and chewy texture
and tons of white chocolate chips (or whatever kind of chocolate chips you prefer)
They're made from completely from scratch, and the recipe is no more difficult than making chocolate chip cookies.
Ingredients:
1 ½ cup all-purpose flour aka plain flour
2 tablespoons cocoa powder
1 and ½ teaspoons cornstarch
½ teaspoon baking soda
¼ teaspoon salt
½ cup unsalted butter softened to room temperature
⅓ cup brown sugar lightly packed
½ cup white sugar
1 large egg
1 teaspoon vanilla
2-3 teaspoons red food coloring liquid or gel
¾ cup white chocolate chips