Mini Chocolate Cakes with Rose Mascarpone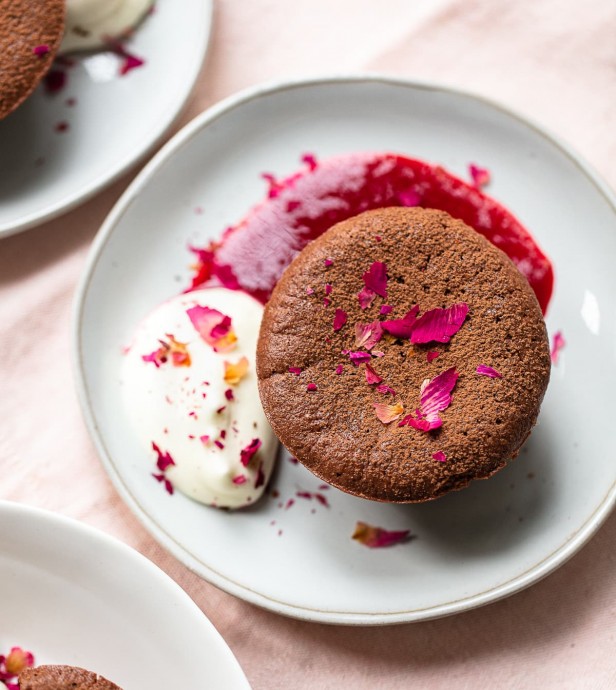 Individual flourless chocolate cakes with raspberry sauce, whipped rosewater mascarpone and rose petals — an easy, simply beautiful dessert you can make ahead. Chocolate babycakes are mini muffin-size cakes that make the prettiest plated desserts, but without too much fuss. This recipe is great for entertaining because each component — the cake, raspberry sauce and mascarpone cream — can be prepared up to 2 days ahead of time. When you're ready to serve, all you have to do is pop the cakes and sauce on to plates along with the cream and you're good to go!
The mini chocolate cakes bake in a standard muffin tin. They turn out airy, moist and lightly sweet. You can also bake the batter as one cake, if you prefer — see the recipe below. The cakes pair beautifully with a simple raspberry sauce and dollops of creamy whipped mascarpone flavored with rosewater. In this recipe, the small amount of rosewater in the mascarpone cream delivers a subtle hint of rose, which comes off as slightly aromatic and ethereal. I'll bet you a dollar your guests will be intrigued without knowing exactly what it is!
Ingredients:
RASPBERRY SAUCE
1 12-ounce package frozen raspberries, thawed
6 tablespoons sugar
1/4 cup water
ROSEWATER MASCARPONE
1 8-ounce container mascarpone cheese
3/4 cup heavy cream
1/3 cup confectioners' sugar
1 1/2 teaspoons rosewater
CHOCOLATE CAKES
2 tablespoons melted butter
11 tablespoons unsalted butter, cut into cubes
7 ounces dark chocolate, roughly chopped
1 cup sugar
1 3/4 cups almond meal
1/4 teaspoon fine sea salt
5 large eggs, separated
Garnish
Unsweetened cocoa powder
Edible dried rose petals