Hazelnut Praline Ice Cream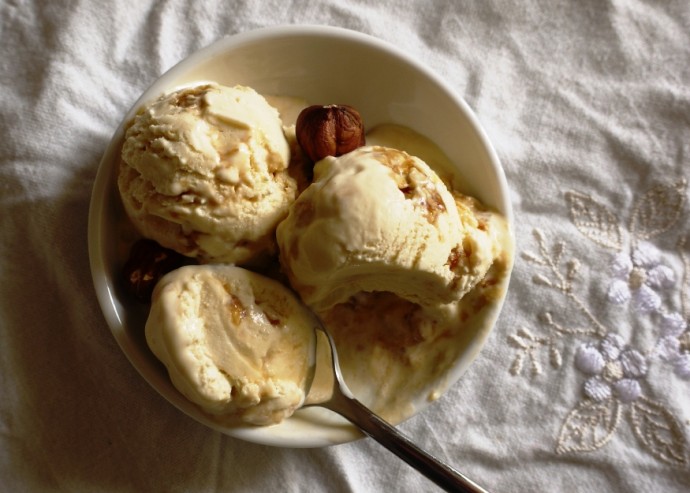 Simple ingredients make up this hazelnut praline crunch ice cream internationally favorite Italian signature dessert. Needless to say, this elegant treat is a total crowd pleaser, perfect to end up a holiday dinner! You may double or triple the quantities to make more.
Ingredients
For the praline
100g caster sugar
100g hazelnuts
A good pinch of sea salt flakes
For the ice cream
500ml milk
500ml double cream
1 vanilla pod, split and seeds scraped
10 egg yolks
250g caster sugar
Directions
Step1
Make the praline first by placing the sugar and nuts in a saucepan over a medium heat. Stir constantly until the sugar begins to caramelize and the nuts are coated. Once the nuts are browned, pour the mixture out onto a grease-proof paper-covered baking sheet, spread out, sprinkle with sea salt flakes and leave to cool. Once set, smash the praline into pieces with a rolling pin.
Step 2
To make the ice cream, place a large saucepan over a medium heat and warm the milk, cream, vanilla seeds and the whole pod together until just about to boil
Step 3
Whisk the egg yolks with the sugar in a large bowl and slowly pour over the hot milk mixture, whisking constantly.
Step 4
Pour the egg and milk mixture through a sieve into the pan and cook slowly, stirring with a wooden spoon until thick enough to coat the back of a spoon. Leave to cool, then transfer to an ice-cream machine and churn until frozen. Stir the praline through the ice cream just before you serve it, or before you transfer it to the freezer.
Soften it at room temperature before serving. When ready to serve the ice cream, chop the remaining praline. Turn out the ice cream onto a round platter and sprinkle the praline over and around it. If some ice cream remains, store it in the freezer.
Bon Appétit!