Cheesy Meatball Bombs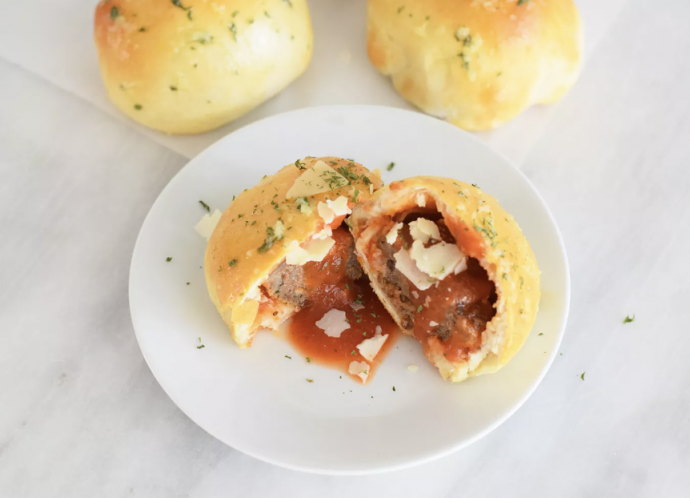 These cheesy and saucy meatball bombs are exploding with Italian flavor. Biscuits stuffed with hearty meatballs, marinara sauce, and shredded mozzarella are topped with the most decadent garlic butter. Perfect for any party appetizer or even for a light weeknight meal, this recipe is like a meatball sub but without all the mess.
Below we provide a delicious Italian meatball recipe, but you can also use any frozen premade meatball (just make sure to thaw them in the refrigerator before using them for this recipe) or your own favorite meatball recipe. It's even a great way to use up leftover meatballs.
Ingredients
Meatballs:
1 tablespoon finely chopped parsley
1/4 cup grated Parmesan cheese
1 large egg
3/4 cup Italian seasoned breadcrumbs
1/4 cup milk
1 teaspoon salt
1/2 teaspoon freshly ground black pepper
1/4 onion, finely minced
3 cloves garlic, finely minced
1/2 pound ground beef
1 sweet Italian sausage, casing removed
Bomb Dough and Toppings:
2 (12-ounce cans) Pillsbury Southern Homestyle refrigerated biscuits, not the flaky kind
1 1/2 cups marinara sauce, or other tomato sauce of your choice
1 1/2 cups shredded mozzarella cheese
1/4 cup grated Parmesan cheese, plus more for garnish
2 tablespoons extra-virgin olive oil
5 tablespoons (2 1/2 ounces) unsalted butter, melted
3 cloves garlic, minced
1 teaspoon finely minced parsley, plus more for garnish
1/2 teaspoon salt