Rustic Apricot Almond Jam Cookies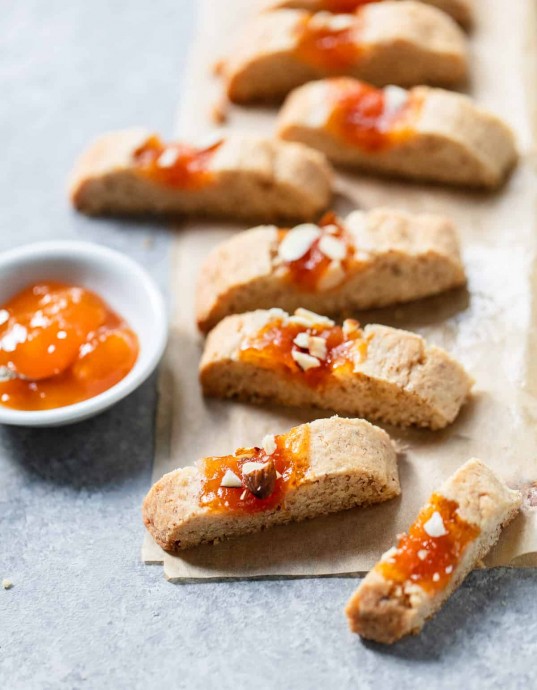 Fuss-free, tender jam cookies made with a buttery toasted almond dough. These are buttery, easy to make jam-filled cookies — they're moist and aromatic from almond paste, and they have an irresistible rustic, toasty crumb from the roasted and ground whole almonds mixed into the dough. When you take a bite, you might think of classic thumbprint cookies, with their centers filled with tart, ever-so-slightly sweet apricot jam. Another plus is that you mix the dough in a few minutes in a food processor, briefly chill it and then divide and roll into cylinders to bake. No fuss required.
I love to bake cookies, but even on my best, most motivated baking days, you probably won't find me rolling, cutting, and decorating cookies. That's probably the reason biscotti are one of my go-to cookies to make around the holidays, including my favorite dark chocolate biscotti and classic lemon biscotti with pine nuts. The method for making these little sweeties is a lot like making biscotti, because they're rolled into logs and baked. Instead of a second bake, these get a good spread of jam. You have to appreciate a cookie that doesn't ask for much in terms of labor or fuss. And bonus points if they happen to pack very nicely into cellophane bags for gifting and sharing.
Ingredients:
¾ cup (110 g) whole almonds
1 teaspoon baking powder
1 teaspoon kosher salt
1 ¾ cups (225 g) all-purpose flour
4 tablespoons (60 g) almond paste, crumbled
¾ cup (150 g) sugar
1 (120 g) stick butter, at room temperature
2 eggs
½ cup (125 g) apricot jam
½ teaspoon amaretto, optional
¼ cup (60 g) sliced almonds, toasted and chopped