Eggplant Casserole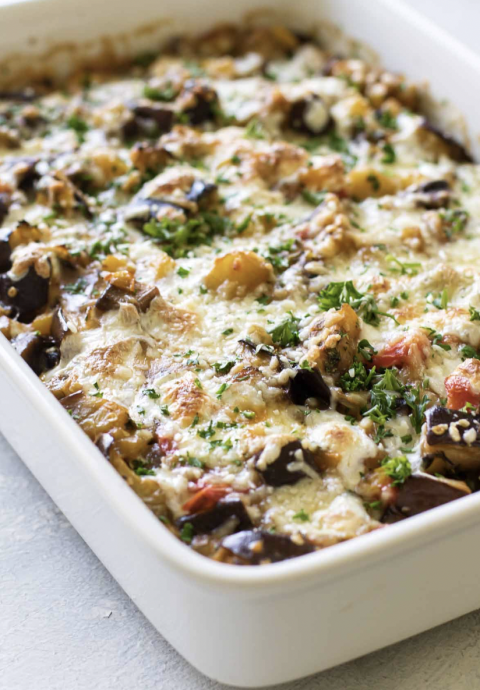 This eggplant casserole is full of the best that summer has to offer – eggplant, fresh herbs, mushrooms, tomatoes, and bell peppers. It's topped with cheese and baked until bubbling hot. Serve it as a side dish or main dish – it's perfect either way.
It's comforting without being heavy, it's vegetarian but filling, and there's cheese which is always a sure-fire way to get me to happily eat a bunch of veggies. It's also a great excuse to raid the local farmer's market in the summer.
It doubles as both a side dish and a main dish – you can serve it just as it is or add some rice or pasta on the side. Or, serve it as a side dish for chicken, pork or steak. I've even served it on toasted hot dog buns – it makes a great sandwich filling.
Ingredients:
2 tablespoons butter
2 tablespoons olive oil
1 large onion, diced
2 garlic cloves, minced
1 yellow pepper, diced
2 portabello mushroom caps, sliced into bite-sized pieces
3 large tomatoes, diced
1 tablespoon fresh parsley, finely chopped
1 tablespoon fresh basil, finely chopped
1/2 tablespoon fresh thyme
1/4 cup vegetable oil
2 medium eggplants, cut into bite-sized pieces
1 tablespoon salt
1 tablespoon flour
1/2 cup Parmesan cheese
4 ounces fresh mozzarella, sliced