Smoky Red Lentil Stew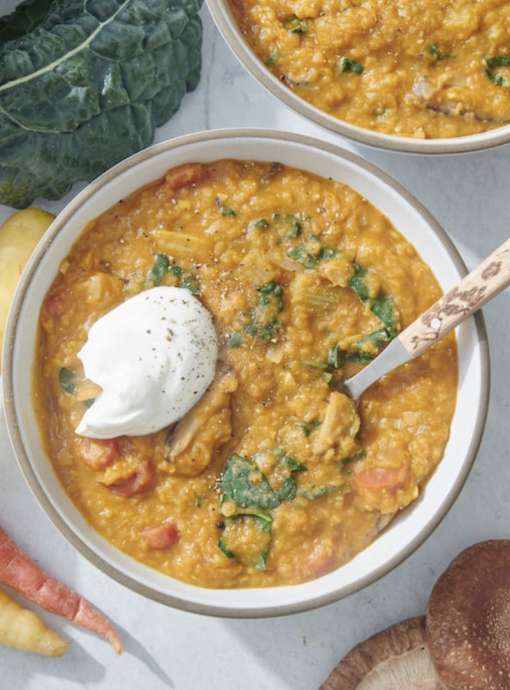 Looking for a hearty and flavorful stew to warm you up on a chilly evening? Look no further than this delicious Smoky Red Lentil Stew. Not only is it easy to make, but it's also packed with protein with a smoky kick from smoked paprika.
Lentils are one of the first ingredients I reach for when wanting to come up with a hearty, vegetarian meal mainly because they're packed with protein – super important for a vegetarian diet. I've been testing and making this stew for a few weeks now, and we can't get enough! The creaminess you get from the cooked red lentils and the warm flavor from the smoked paprika are an incredible combo.
Ingredients:
3 tablespoons olive oil
1 yellow onion diced
3 stalks celery
3 carrots peeled and diced
1 cup shiitake mushrooms sliced
2 teaspoons kosher salt divided
3 cloves garlic minced
2 tablespoons balsamic vinegar
2 tablespoons smoked paprika powder
1 teaspoon cumin powder
2 cups dried red lentils
6 cups vegetable broth (if the stew feels too thick after cooked, you can add additional broth or water to loosen it up to your preference)
1 cup greens of choice (kale, spinach, broccoli, Swiss chard), chopped
Optional toppings: greek yogurt sour cream, chives, green onions, hot sauce.