Cherry Coffee Cake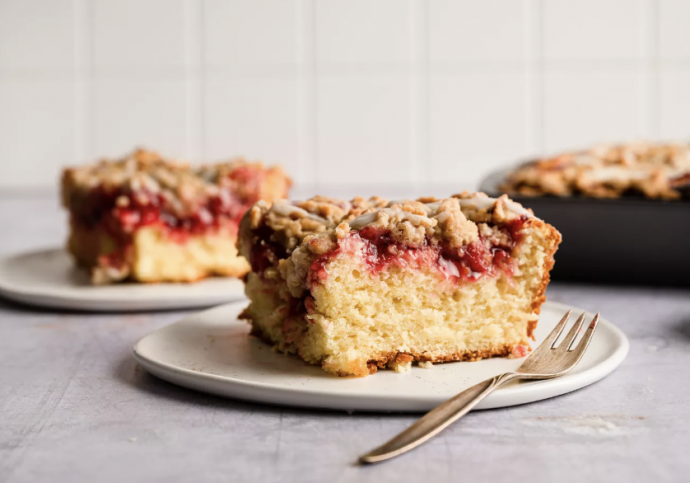 Give your normal coffee cake a major upgrade with one simple ingredient: cherry pie filling. Coffee cake is traditionally a sweet cake with texture more like a muffin and topped with a streusel. In this version, the cherries add tartness, and a burst of fruit flavor. It's finished with a cinnamon-spiced streusel topping for that classic coffee cake feel.
All you need is large mixing bowl to whisk the batter together, then layer with the cherry pie filling. Streusel is crumbled over the top before it's all baked together until perfectly soft and crumbly.
Cherry Coffee Cake is our go-to easy treat for brunch, dessert, or tea time. And of course, it's even better when served with, you guessed it, coffee.
Ingredients
For the Cake:
3/4 cup salted butter, softened
1 1/4 cups granulated sugar
4 large eggs
1 tablespoon pure vanilla extract
1/2 cup sour cream
3/4 cup milk
3 cups all-purpose flour
1 tablespoon baking powder
1/2 teaspoon baking soda
1/2 teaspoon kosher salt
Cooking spray
2 (21-ounce) cans cherry pie filling
For the Streusel:
1 cup all-purpose flour
3/4 cup brown sugar
1/2 cup salted butter, melted
1 teaspoon ground cinnamon
1 teaspoon pure vanilla extract
For the Icing:
2 cups confectioners' sugar
1/4 cup salted butter, melted
3 tablespoons milk
1 teaspoon pure vanilla extract