Air Fryer Hot Honey Chicken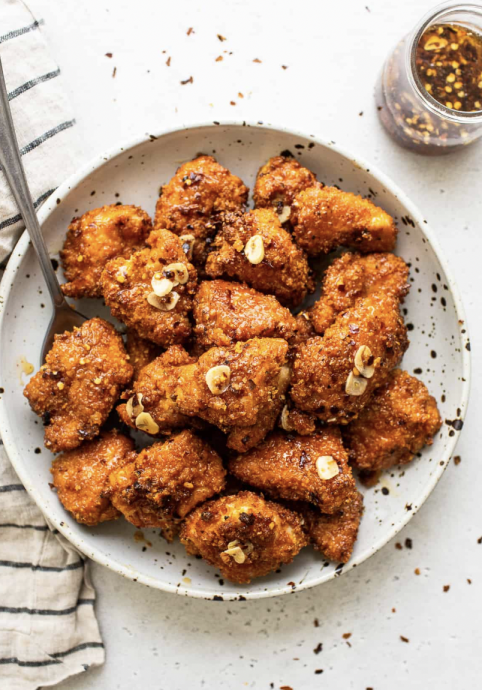 This air fryer hot honey chicken comes out crunchy on the outside and perfectly tender on the inside. It's tossed in our homemade hot honey sauce!
Say hello to this crunchy, hot and sweet chicken that's made right in your air fryer. No need for takeout because this chicken is truly one of a kind.
Made with lean chicken breast, a crunchy cornflake breading, and homemade hot honey, this air fryer chicken is about to be your new go-to way to eat chicken!
Ingredients:
Hot Honey
1/2 cup honey not raw honey
2 teaspoons red pepper flakes or 6 thai chiles minced with seeds
1/2 tablespoon apple cider vinegar
1 garlic cloves sliced
Chicken Poppers
1.5 lbs. boneless skinless chicken breast
4 cups corn flakes
¼ cup all-purpose flour or 1:1 gluten-free
2.5 teaspoons garlic powder
2.5 teaspoons coarse salt
1 teaspoon cracked black pepper
1.5 teaspoons ground mustard
1.5 teaspoons paprika
3 large eggs
1 tablespoon water
3-4 tablespoons avocado oil or olive oil