Holiday Honeycrisp Salad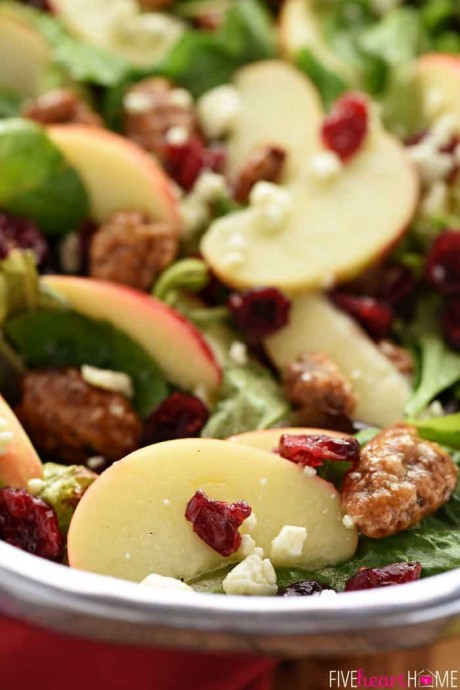 This gorgeous Holiday Honeycrisp Salad is full of flavor and texture, with fresh apple slices, crunchy toasted pecans, chewy dried cranberries, zippy blue cheese, and a tangy-sweet apple cider vinaigrette. It's perfect as a Christmas salad or a dinner party, or as part of a regular weeknight dinner!
Let's face it, holiday meals are usually a bit over-the-top when it comes to rich, decadent foods. However, sometimes it's hard to actually eat all of that decadence in one sitting...at least without risking a stomach ache. So perhaps it might be nice to have a lighter menu option somewhere between the buttery mashed potatoes and the 17 varieties of pie. That's where this Holiday Honeycrisp Salad comes in. Seriously, let's all observe a moment of silence to appreciate how gorgeous and vibrant and perfect this salad is. The colors...the contrasting textures...the sweet/salty/tangy flavors. This recipe has it all.
Feel free to use your favorite apples. Pink Lady or Gala would be lovely. Or Granny Smith if you're going for a little pucker in your salad. Or you could even mix and match different types of apples within the salad! This salad is simple to make and perfect for your Christmas table!
Ingredients:
1/2 cup light vegetable oil, such as sunflower or safflower OR extra-virgin olive oil
1/4 cup apple cider vinegar
1/4 cup unsweetened apple juice OR apple cider
2 to 3 tablespoons honey
1 tablespoon lemon juice
1/2 teaspoon salt
Freshly ground black pepper, to taste
3 medium Honeycrisp apples (about 1 pound), thinly sliced
Juice of 1/2 lemon
12 ounces salad greens, spring mix, baby spinach, arugula, baby romaine, OR a combo of your favorites
1 cup pecan halves, toasted or candied
3/4 cup dried cranberries OR dried cherries
4 ounces crumbled blue cheese