Ultimate Veggie Pizza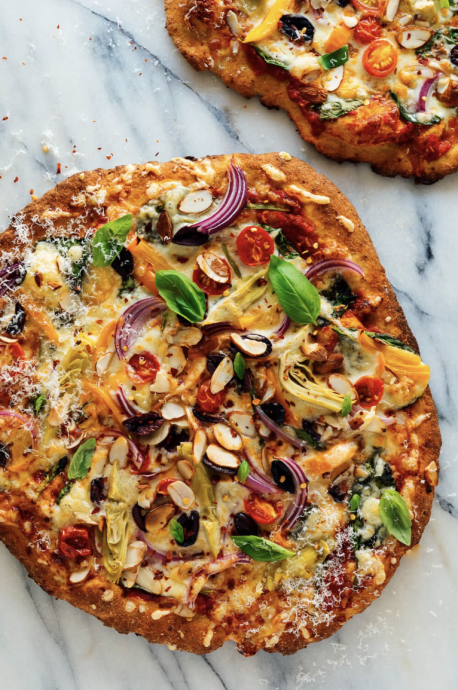 This is the best homemade veggie pizza I've ever had, and I hope you'll say the same!
This vegetarian pizza recipe will delight vegetarians and carnivores alike. It's fresh and full of flavor, featuring cherry tomatoes, artichoke, bell pepper, olives, red onion and some hidden (and optional) baby spinach. You'll find a base of rich tomato sauce and golden, bubbling mozzarella underneath, of course. This pizza starts with a base of my whole wheat pizza dough. As an alternative, use one pound of store-bought pizza dough, which you can divide by two to follow my recipe exactly (or just make one large pizza—that also works with store-bought dough).
Then we'll add the following. This recipe is truly very flexible—you can skip any of them if you don't like 'em or don't have 'em. Use more of one for less of another. Easy!
Ingredients
1 batch easy whole wheat pizza dough or 1 pound store-bought pizza dough
1 cup pizza sauce or marinara
2 cups baby spinach
2 to 3 cups (8 to 12 ounces) shredded low-moisture part-skim mozzarella cheese
½ cup jarred or canned artichoke, cut into 1" pieces
½ cup fresh red or orange bell pepper, cut into narrow 2″ strips
½ cup red onion, cut into thin wedges
½ cup halved cherry tomatoes
½ cup pitted Kalamata olives, halved lengthwise
½ cup sliced almonds (optional)
Optional garnishes: Fresh basil (small leaves or torn), red pepper flakes and/or finely grated Parmesan cheese