Chili's Santa Fe Chicken Salad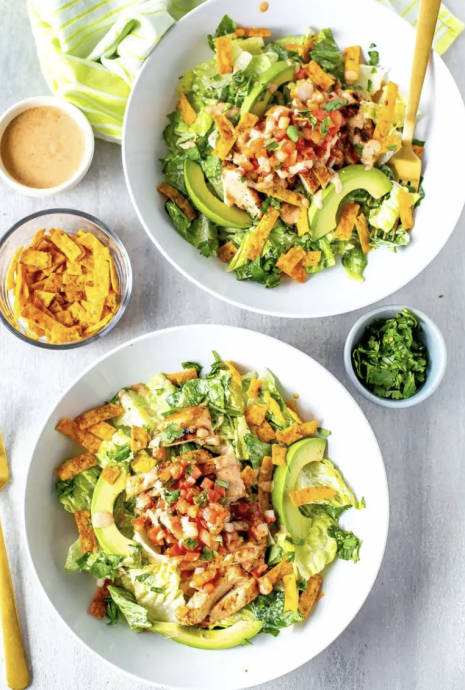 This Santa Fe Chicken Salad is a perfect Chili's copycat recipe loaded with spicy chicken, yummy veggies, tortilla strips and Santa Fe sauce.
Just like the Chili's version, this grilled chicken salad is made with chicken cutlets marinated in taco seasoning, romaine lettuce, sliced avocado, pico de gallo, chopped cilantro, ranch dressing and Santa Fe sauce.
The dressing for the salad is a combination of two things; ranch salad dressing and an incredibly flavourful Santa Fe sauce. It's so good you're going to want to put it on everything! To make the Santa Fe dressing, all you have to do is mix together some light mayo, lime juice, water, chili powder, paprika, onion powder, salt and pepper. Easy-peasy!
Ingredients:
4 chicken cutlets
1 tbsp olive oil
1 tbsp taco seasoning
1 head romaine lettuce
1 avocado, sliced
1/2 cup pico de gallo (store bought)
1/4 cup chopped cilantro
1/4 cup tortilla strips
2 tbsp ranch dressing
Santa fe sauce
1/3 cup light mayo
1 tbsp lime juice
1 tbsp water
1/2 tsp chili powder
1/2 tsp paprika smoked paprika is preferred
1/2 tsp onion powder
Salt & pepper, to taste