Favorite Veggie Burgers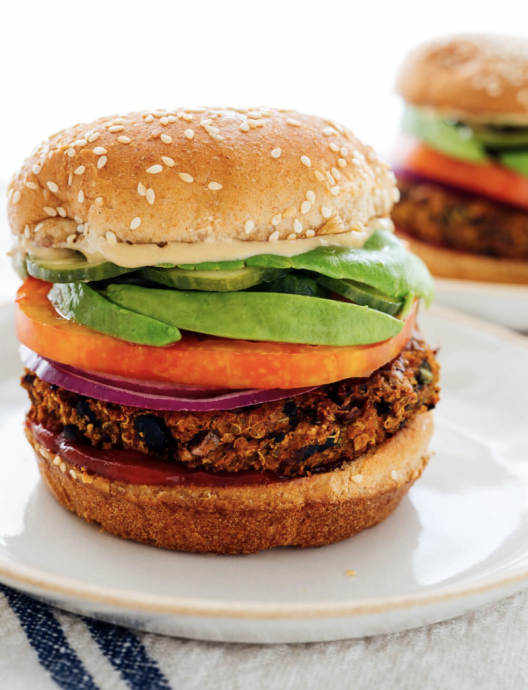 Have you met my favorite veggie burgers? If not, it's about time! I have high standards for veggie burgers, and these put all the rest to shame. I have a feeling they'll become your favorite veggie burgers, too.
These veggie burgers are hearty and satisfying, and feature an irresistible combination of flavors. They start with a base of quinoa, black beans and oats. Then we amp up the volume with sweet potatoes, fresh herbs, and some carefully chosen seasonings. They're a little sweet and a little spicy, in the best of ways.
Ingredients
1 ½ pounds sweet potatoes (2 medium or 3 small)
½ cup quinoa, rinsed in a fine-mesh colander
1 cup water
1 can (15 ounces) black beans, rinsed and drained (or 1 ½ cups cooked black beans)
½ cup chopped red onion (about ½ small red onion)
⅓ cup chopped fresh cilantro
2 cloves garlic, pressed or minced
2 tablespoons adobo sauce* or 2 teaspoons smoked paprika
2 teaspoons ground cumin
1 teaspoon chili powder
½ teaspoon salt
1 ¼ cups quick-cooking oats** (use certified gluten-free oats if necessary)
Extra-virgin olive oil, for brushing (or avocado oil, if using stovetop method)
8 whole wheat hamburger buns (optional)
Your favorite burger fixings: Avocado or guacamole, tomato, onion, lettuce, pickles, cheese, sprouts, ketchup, hot sauce, mustard, fried eggs…