Ginger Molasses Whoopie Pies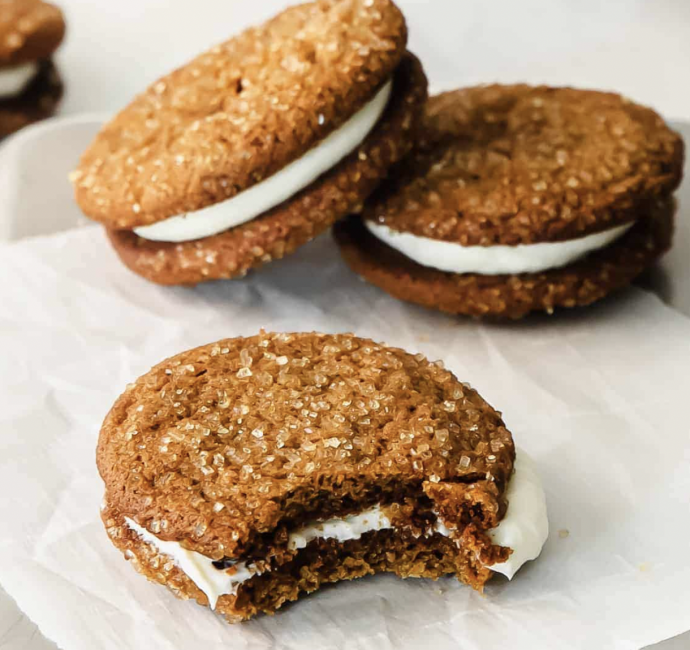 This ginger molasses whoopie pie recipe is going to be a new favorite cookie recipe.
These ginger whoopie pies are the adult version of a chocolate whoopie pie. These delicious whoopie pies are made with a soft ginger cookie and an amazing and simple cream cheese frosting. Great for the holidays or just to store in your freezer for a rainy day.
Here are the main ingredients that you need for the ginger cookie itself. Baking is more fussy than cooking, so be sure you have fresh ingredients.
Ingredients:
For the Cookies
1 cup white whole wheat flour
1 cup all-purpose flour
2 teaspoons baking soda
2 teaspoons ground cinnamon
1 teaspoon ground ginger
½ teaspoon ground cloves
½ teaspoon salt
1 cup light brown sugar
½ cup butter cold and cut into ½ tablespoon cubes
¼ cup coconut oil softened but not melted
1 large egg
¼ cup molasses
⅓ cup turbinado sugar
For the Filling
½ cup butter softened
½ cup powdered sugar
8 ounces cream cheese softened
1 teaspoon pure vanilla extract