Taco Bell Nacho Fries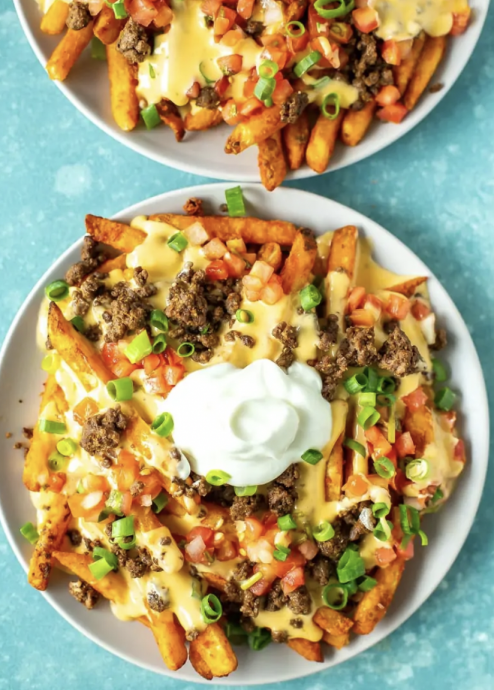 These Taco Bell Nacho Fries, aka fries supreme, are smothered in delicious nacho cheese, pico de gallo, ground beef and sour cream.
Nachos fries are basically nachos but with fries instead of tortilla chips as the base. For this nacho fries Taco Bell recipe, I used a base of spicy fries with ground beef and nacho cheese sauce.
If you can't find seasoned spicy fries in the frozen foods aisle at your local grocery store, it won't be a problem. Just buy a bag of regular French fries. Then, before you bake them, toss them in a bit of homemade taco seasoning. Even just some chili powder and salt will be perfect! You'll have some delicious homemade nacho fries in no time.
Ingredients:
1 lb extra-lean ground beef
1 tbsp taco seasoning
1 (650g) bag frozen fries spicy flavor
1/2 cup pico de gallo
1/4 cup chives or scallions, sliced
1/4 cup sour cream
Nacho cheese sauce
1 tbsp salted butter
1 tbsp flour
2 pickled jalapeno peppers, minced (optional)
1 pinch chili powder
1 pinch salt
1/2 cup milk
10 Kraft singles cheese slices or 3/4 cup cheddar cheese