Cinnamon Roll Sugar Cookies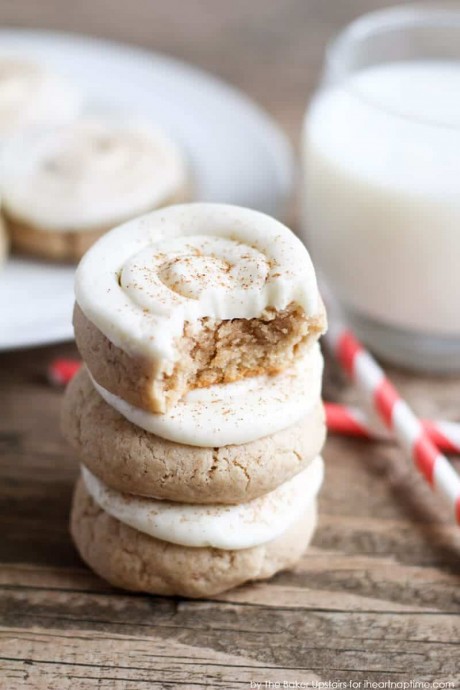 This recipe for cinnamon roll sugar cookies is simple to make and will have you looking like a total baking rock star. You won't believe how delicious these cookies are! This dessert combines two of my favorite sweet treats — cinnamon rolls and sugar cookies. I mean, does it get any better than that? I think not! Sometimes taking two good things and combining them into one doesn't quite work out. In this case, I'm happy to report that combining the flavor of cinnamon rolls and cookies turned out better than expected! These cinnamon and sugar cookies are so good!
The texture is almost cake-like and is super soft and delicious. Then it's topped with a luscious cream cheese frosting and a little sprinkle of cinnamon. Pure heaven! Although these are one of our favorite Christmas cookies, this treat tastes festive year-round too. I love that pop of flavor you get as you sink your teeth into them. Seriously to die for! These cookies have an easy-to-make cinnamon roll frosting on them that's better than anything you can get from a mall. Plus, since it's your cookie, you can put as much or as little icing on it as you'd like. I say the more the merrier!
Ingredients:
FOR THE COOKIES
1 cup butter , softened
1 cup sugar
2 eggs
1 Tablespoon vanilla
3 cups flour
3 teaspoons baking powder
2 teaspoons ground cinnamon
1/2 teaspoon salt
FOR THE FROSTING
4 ounces cream cheese , softened
8 Tablespoons butter , softened
2 1/2 cups powdered sugar
1 teaspoon vanilla
1-2 teaspoons milk or cream , as needed
additional cinnamon , for sprinkling