Carrot-Coconut Bunny Loaf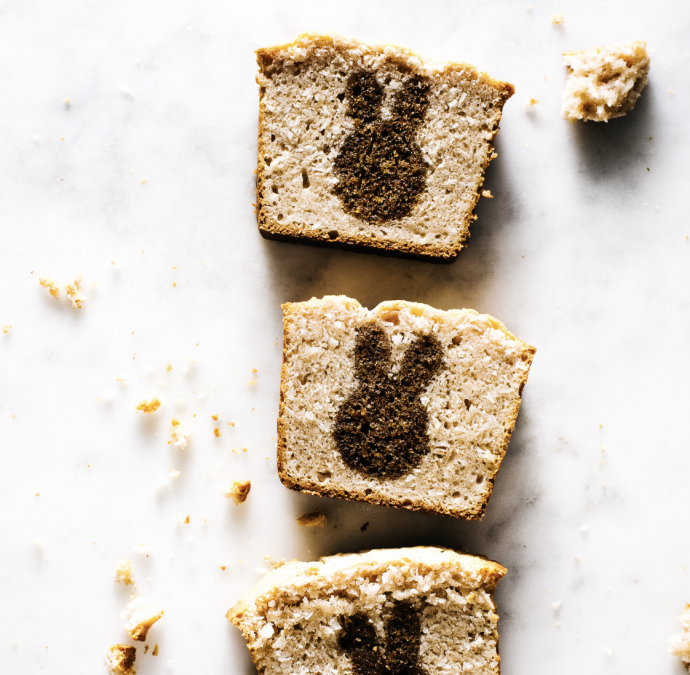 We did have a little ham dinner yesterday! Mike made a spiced ham with the creamiest mash ever and I made some sweet potato biscuits and this surprise bunny-in-the-middle coconut and carrot loaf. I love coconut cake and carrot cake so I figured why not combine them into one loaf. I was a little worried that the carrot bunnies would get over-baked but they ended up being good!
I am in love with loaves – they are so hot right now! Or at least I want them to be. They're quick to make and you can eat a slice for breakfast, for afternoon tea, or with a scoop of ice cream for dessert. I love how they're infinitely customizable and how little loaves are the perfect size for Mike and I.
Ingredients:
1 cup all purpose flour
1 teaspoon baking soda
1/2 teaspoon table salt
1 teaspoon ground cinnamon
1/2 teaspoon ground ginger
1 cups granulated sugar
1/2 cup plus 2 tablespoons canola oil
2 large eggs
1 1/2 cups finely grated peeled carrots
Coconut Cake
1 large egg
1/2 cup + 2 tablespoons milk
1/2 teaspoon vanilla extract
1 1/4 cups all-purpose flour
1/8 teaspoon table salt
1 teaspoon baking powder
1 teaspoon ground cinnamon
1/2 cup sugar
3/4 cups unsweetened shredded coconut
3 tablespoons melted unsalted butter
vegetable oil or nonstick cooking spray for baking pan