Cinnamon Toast Breakfast Quinoa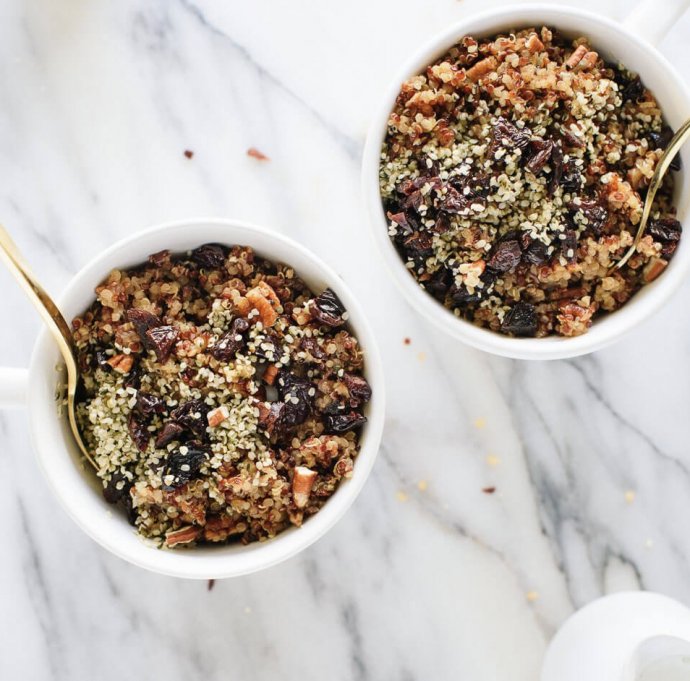 This recipe's photo shoot was going swimmingly until the very end. Ingredients, sunlight, dog not on table—check, check, check. Then I told myself to quit being lazy and pull out the tripod to be sure I got some crystal-clear photos of the final dish.
I tripped over Cookie, the tripod arm bumped the foam board reflector, the reflector knocked over the mini milk pitcher and then both bowls. It was like watching a stack of dominoes fall.
Ingredients:
Breakfast quinoa
Heaping 2 tablespoons chopped raw pecans
1 ½ teaspoons coconut oil
½ teaspoon ground cinnamon, plus more for sprinkling on top
Tiny pinch of salt
1 cup pre-cooked quinoa* (either chilled or warm from cooking—both will work)
1 tablespoon maple syrup, more if desired
Toppings and optional accompaniments
1 tablespoon chopped dried cherries or dried cranberries
Hemp seeds, chia seeds or flax seeds (optional), for serving
Milk or yogurt of choice (totally optional), for serving