Quick and Easy Thai Peanut Chicken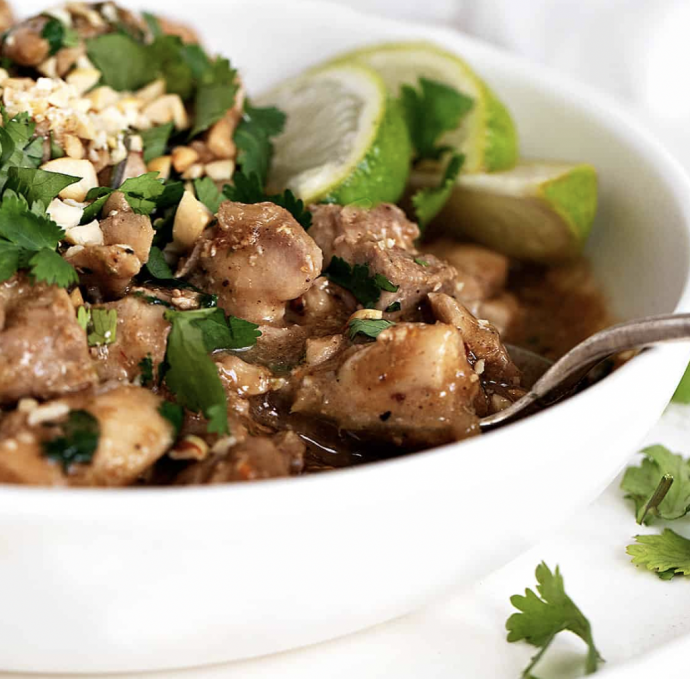 This Thai peanut chicken with coconut milk is quick, easy and delicious. A perfect weeknight meal. Serve with rice noodles, pasta or rice. Great in a rice bowl, too.
This Thai chicken dish features the wonderful flavours of coconut milk and peanut butter, but with some added spices, to make it a little more complex. It comes together so quickly and easily on the stovetop (no oven required!) and is ready in just about 30 minutes, so it's perfect for a weeknight meal.
Ingredients:
5-6 boneless, skinless chicken thighs, or 2 large boneless chicken breasts, cut into bite-sized pieces
1-2 tsp cooking oil
1/2 medium onion, diced
1/2 tsp ground coriander
1/2 tsp ground cumin
1/4 tsp salt, a touch less if using regular soy sauce
1 tsp ginger paste, or 1/2 tsp freshly grated ginger or 1/4 tsp dried ginger powder
1 tsp Asian Chili garlic sauce, plus more, to taste or Sambal Oelek or Sriracha
1 Tbsp soy sauce, low-sodium recommended
1/2 tsp brown sugar
1 Tbsp peanut butter, smooth or crunchy, plus a bit more stirred in at the end, if you like
5.5 oz coconut milk, small/mini can or measure out about 2/3 cup of stirred coconut milk from a larger can
To finish:
1/2 tsp lime zest, optional, but recommended
Juice of 1/2 lime, optional, but recommended
For serving:
Chopped cilantro, optional
Chopped peanuts, optional
Lime wedges, for drizzling