Hummingbird Bread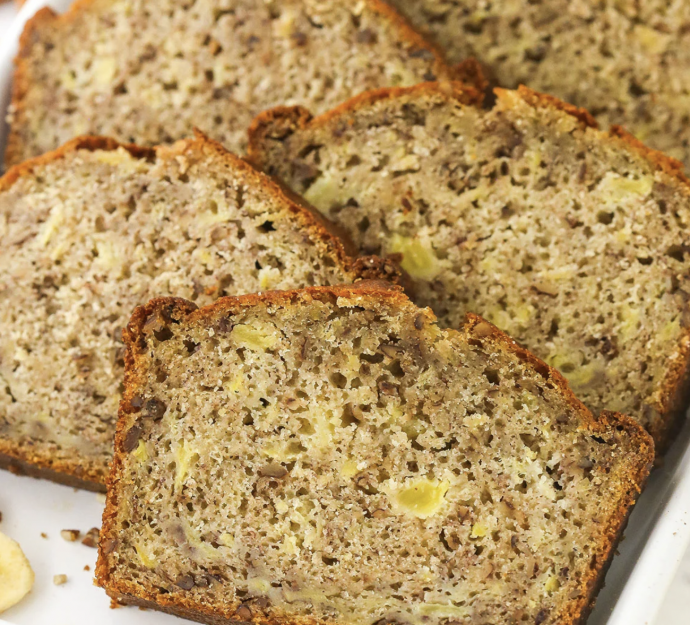 This moist and fluffy Hummingbird Bread is loaded with pineapple and ripe banana! Laced with warm spices and studded with toasted pecans, you'll love everything about this luscious breakfast loaf.
Every banana bread lover is about to discover a new obsession – homemade hummingbird bread! This easy recipe takes your classic Banana Bread and turns it into a pineapple pecan sensation. If you're looking for a way to add even more tropical goodness to your favorite morning treat, this wholesome breakfast bread is calling your name.
It's spiced with cinnamon and nutmeg to give it the same great depth of flavor that you get from Hummingbird Cake. In other words, it's like eating cake for breakfast – only a bit healthier! With 20 minutes of prep time total, you can whip up a loaf on Sunday and help yourself to a slice whenever a craving hits throughout the week.
Ingredients:
2 cups (260g) all-purpose flour
1 tsp baking powder
1/2 tsp baking soda
1/4 tsp salt
1 tsp ground cinnamon
1/2 tsp ground nutmeg
1/4 cup (56g) unsalted butter, melted
1/4 cup vegetable oil
3/4 cup (168g) packed light brown sugar
2 large eggs
1 1/2 cups mashed bananas (about 3 large ripe bananas)
8 oz can crushed pineapple, with juice
1 tsp vanilla extract
1/2 cup (53g) chopped pecans, toasted