Chicken and Waffles Recipe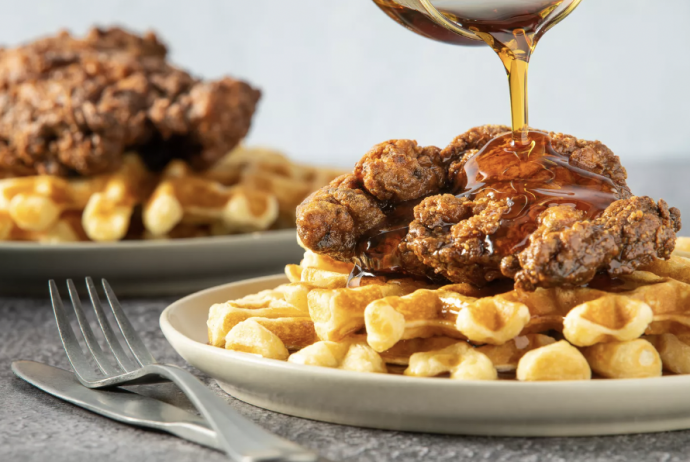 Chicken and waffles are a an iconic American dish with the perfect flavor combination of sweet with salt and spice. The crisp texture of the fried chicken pairs perfectly with the soft fluffy waffles. They can be topped simply with a drizzle of maple syrup or honey to a sticky sweet finish. If you are serving chicken and waffles for dinner they can be served with some cooked greens or even some pickle slices to add some tang to the meal.
Some say chicken and waffles were created at the Wells Supper Club in Harlem in the 1930's to feed hungry jazz musicians after their sets ended between dinner (fried chicken) and breakfast (waffles). Others claim the history of this dish goes back much further to the 1800's in the South, or even as far back as the 1600's with the Pennsylvania Dutch. Even if it is hard to pinpoint the exact origin of this uniquely American dish, it is a stick to your ribs meal that is unforgettable.
Ingredients
8 boneless, skinless chicken thighs
2 cups buttermilk
2 1/2 cups all purpose flour
1 tablespoon seasoned salt
1 teaspoon paprika
1 teaspoon ground black pepper
1/2 teaspoon garlic powder
1/2 teaspoon cayenne pepper
vegetable oil for frying
Buttermilk Waffles
1 3/4 cups all purpose flour
2 tablespoons granulated sugar
1 3/4 teaspoons baking powder
1/4 teaspoon baking soda
1/4 teaspoon salt
1 3/4 cups buttermilk
2 large large eggs
1/2 cup unsalted butter
Nonstick cooking spray
To Serve: