Creamy Sausage Tortellini Soup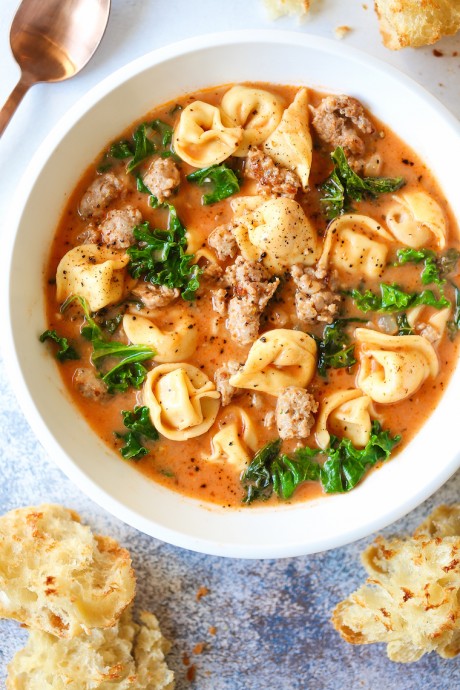 My favorite cozy weeknight soup made in just 30 min! It's so stinking easy too. Loaded with tender tortellini, sausage and kale! Creamy Tortellini Soup is a thick and creamy soup base with chunks of cooked Italian sausages, buttery kale and three cheese tortellini pasta cooked in a smooth and rich tomato sauce.
You can't go wrong and the combination are endless! Here are some variations to help make it your own. Meat: change up your meat if you prefer turkey sausage, cubed chicken or ground beef if you do not have sausage. Cream: heavy cream is best but if you are looking for a lighter side try half and half. Vegetables: add in chunks of potatoes, mushrooms, zucchini or even bell peppers. Tortellini: there are a few other flavors of tortellini or even ravioli will work great too. Chicken broth: for other flavoring try beef broth or vegetable broth. Tomato paste: a can of tomato sauce will also work to thicken and add that rich flavoring. Kale: switch it out for spinach if you prefer.
It is loaded with all the flavors and continues to enhance in texture and flavor the longer it simmers. Creamy sausage tortellini soup is a tried and true favorite and tastes amazing. Comforting and savory, thick, rich and smooth soup will warm you up this winter season. This creamy sausage tortellini soup will become an instant favorite.
Ingredients:
1 pound ground pork sausage
1 cup carrots chopped
1 small onion chopped
3 cloves garlic minced
1 Tablespoon Italian seasoning
1/4 cup flour
6 cups chicken broth
1 6 ounce can tomato paste
1 cup heavy cream
1 9 ounce package three cheese tortellini
3 cups kale chopped
salt and pepper to taste