Sour Cream and Onion Biscuits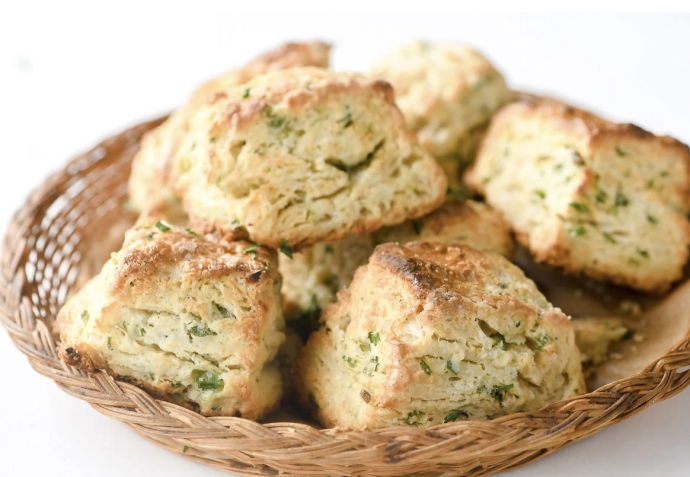 Move over potato chips ~ tender sour cream and onion biscuits are packed with tangy sour cream and savory onion flavors, plus they've got layers for days!
These sour cream and onion biscuits are everything you love in a biscuit ~ they're buttery, with a light and flakey texture. But what do they have that regular biscuits don't have? Exciting flavor, that's what. And plenty of it with everybody's favorite combo: sour cream and onion. They crisp up beautifully on the edges, and those layers? Just wow.
Sour cream and onion biscuits play well with just about any meal you've got planned, just don't be surprised if they steal the show. And they'll be absolutely perfect with your Easter ham. (I can just imagine the day after sammies!)
Ingredients:
1 bunch scallions, (about 6)
3 Tbsp snipped fresh chives
2 1/2 cups all purpose flour
2 tsp ranch seasoning, (from a salad dressing seasoning packet)
1 3/4 tsp baking powder
1 1/2 tsp sugar
1 tsp coarse or kosher salt, (if using regular salt, reduce the amount to 1/2 tsp)
1 tsp black pepper, freshly cracked
1/2 tsp baking soda
10 Tbsp cold butter, cut in pieces
1 1/4 cup sour cream
a few drops of milk, cream, or water, if necessary to hydrate your dough.
flaky sea salt for topping, optional