Kentucky Hot Brown Turkey Sandwich Recipe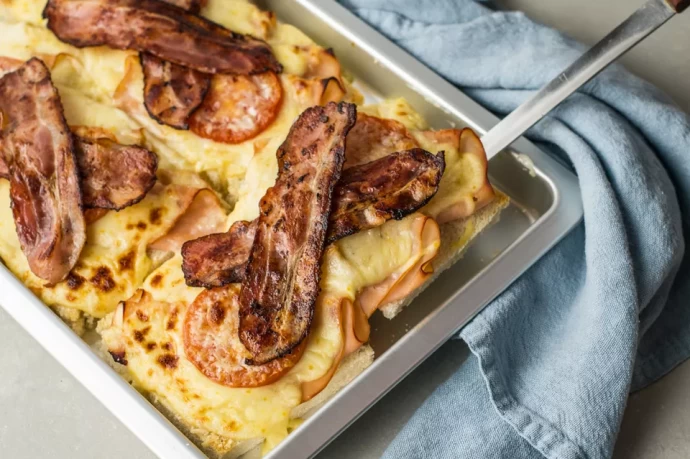 The Kentucky hot brown sandwich has been a tradition since its creation in 1926. Fred K. Schmidt, a chef for Louisville's Brown Hotel, initially made the dish for patrons to enjoy after an evening of dinner and dancing. The open-face sandwich starts with a slice of toast.
The toast is the base for layers of turkey, sliced tomatoes, a Parmesan cheese sauce, and extra grated Parmesan cheese. Place the sandwich on an oven-safe pan or dish and broil it just until the cheese is bubbly and browned. For a traditional hot brown, place two strips of bacon on it just before serving. This version uses a combination of Parmesan and cheddar cheese. Make these sandwiches for a sandwich supper or luncheon, or prepare them for a game-day snack.
Ingredients:
2 tablespoons butter
1/4 cup all-purpose flour
2 cups milk
1/4 teaspoon salt
1/2 teaspoon Worcestershire sauce
1/4 cup sharp cheddar cheese (grated)
3/4 cup Parmesan cheese (grated, divided)
8 slices toast (crusts trimmed)
1 pound turkey (deli or leftover, cooked turkey, thinly sliced)
4 slices tomato (more if small)
8 strips bacon (crisply cooked and drained)