Moroccan Grilled Fish Brochettes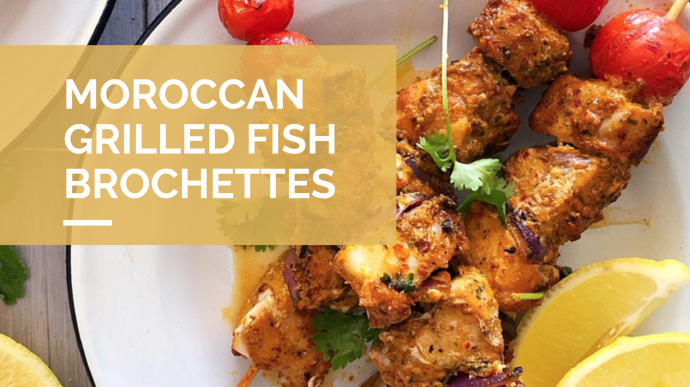 This is a popular dish from Morocco, a super quick and simple way to cook a white fish, for example, Dorade Royale. Learn how to make the best Moroccan grilled fish brochettes for a weekend party or family dinner.
Serve these delicious skewers with potatoes, eggplant slices and strips of red peppers, which can be cooked on the barbecue alongside the fish brochettes. Accompany by a bowl of green salad and a stack of warm, soft pitta breads or flour tortillas.
Ingredients
675g firm-fleshed white fish, such as haddock, halibut, sea bass, snapper or turbot, cut into 2.5–5 cm cubes
5 garlic cloves, chopped
2.5ml/1/2 tsp paprika
2.5ml/1/2 tsp ground cumin
1 tsp salt
2–3 pinches of cayenne pepper
60ml/4 tbsp olive oil
30ml/2 tbsp lemon juice
30ml/2 tbsp lemon juice
30ml/2 tbsp chopped coriander (cilantro)
3–4 green or red (bell) peppers, seeded and cut into 2.5–5 cm/1–2in pieces
lemon wedges, to serve
Directions
Step 1
Put the garlic, paprika, cumin, salt, cayenne pepper, oil, lemon juice and coriander in a large bowl and mix together. Add the fish and toss to coat. Leave to marinate for at least 30 minutes, and preferably 2 hours, at room temperature, or chill overnight.
Step 2
About 40 minutes before you are going to cook the brochettes, light the barbecue. The barbecue is ready when the coals have turned white.
Step 3
Meanwhile, thread the fish cubes and pepper pieces alternately on to several presoaked wooden or metal skewers.
Step 4
Grill (broil) the brochettes on the barbecue for 2–3 minutes on each side, or until the fish is tender and lightly browned. Serve with lemon wedges.
Bon Appétit!