Mississippi Mud Pie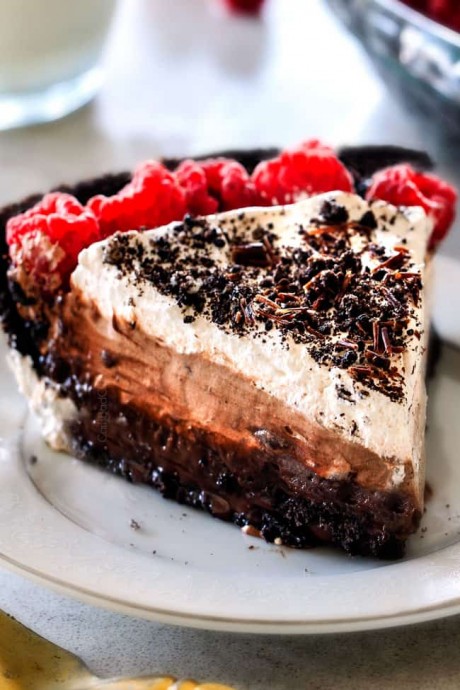 Mud Pie can be a lot of things! In the simplest definition, it is a chocolate-based pie with a crumbly cookie crust. As you might glean from the name, this pie was created in Mississippi and I love that it is just about my age – the first printed recipe circulated in 1975. Classic, now traditional recipes don't have to be handed down from the old country to be worth it!
This Mississippi Mud Pie is a repeat request at our house! It's wonderfully rich, crazy creamy, and outrageously delicious with 4 EASY layers of decadence! This heavenly Mud Pie recipe start with an Oreo cookie crust followed by a fudgey chocolate sauce, chocolate pudding, chocolate whipped cream and finally fluffy whipped cream! Of course, we garnish it all with crushed Oreos and raspberries and you can add nuts too if you like. No matter how you finish your Mud Pie, one thing is for certain, EVERYONE will will beg you for this sensational TO LIVE FOR recipe!
It's rich and decadent yet somehow so light and luscious at the same time that I could easily eat half a pie. It's a dessert that calls to you, nay, screams to you as it chills in the refrigerator, beckoning for its sensational chocolate layers to glide down your throat. It's a chocolate lover's dream come true.
Ingredients:
24 Oreos with filling finely crushed (I use my food processor)
5 tablespoons unsalted butter, melted
4 oz. BAKER'S Semi-Sweet Chocolate roughly chopped
1/3 cup canned sweetened condensed milk
1 tablespoon Vegetable oil
2 (3.9 oz. each) pkgs. JELL-O Chocolate Flavor Instant Pudding
2 1/2 cups cold milk
1 (8 oz.) tub Cool Whip Whipped Topping thawed, divided