Cranberry Banana Bread with Chocolate Chips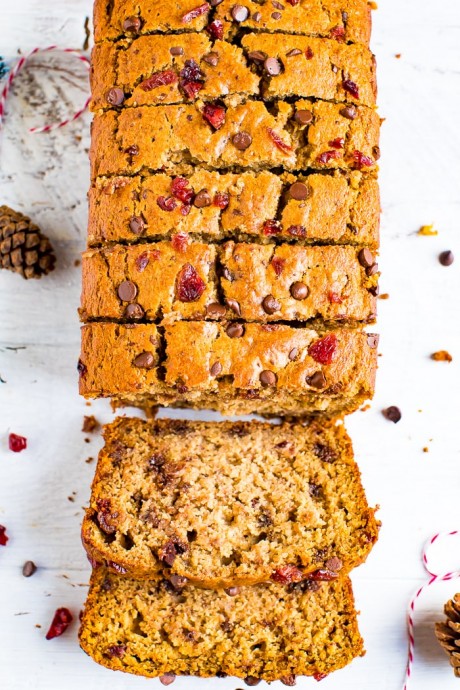 When it comes to the holidays, one of my childhood memories is waking up and coming downstairs to find delicious baked goods on the counter. Sometimes we had cinnamon rolls, sometimes we had monkey bread and sometimes we had banana bread.
This healthy cranberry banana bread is studded with dried cranberries and chocolate chips. Perfect for a festive holiday breakfast or treat! It's made with whole grain flour, gluten-free and diary-free. Confession - I am a banana bread fanatic, so when I had the idea to use cranberries and chocolate chips to add a little texture, flavor and color, I was so excited to develop this recipe!
This banana bread is so festive (thanks cranberries!), a crowd pleaser and pretty healthy! Because of the three bananas, it doesn't need a lot of extra sugar. Instead of white flour, I use a combination of oat and almond flour which makes the loaf gluten-free without a bunch of different flours and/or gums. I always love when I can take a traditional baked good and upgrade them to something that tastes awesome, but won't leave me feeling overly full and bloated. Do you have certain dishes or meals that you make every year for the holidays? I love hearing your traditions around food!
Ingredients:
1 1/4 cup oat flour
3/4 cup almond flour
1 teaspoon baking soda
1/4 teaspoon sea salt
2 Tablespoons melted coconut oil
1/3 cup coconut sugar
2 Tablespoons maple syrup
3 medium overripe bananas, mashed
2 eggs
1 teaspoon pure vanilla extract
1/3 cup dried cranberries, chopped
1/3 cup mini chocolate chips