Powdered Donut Cake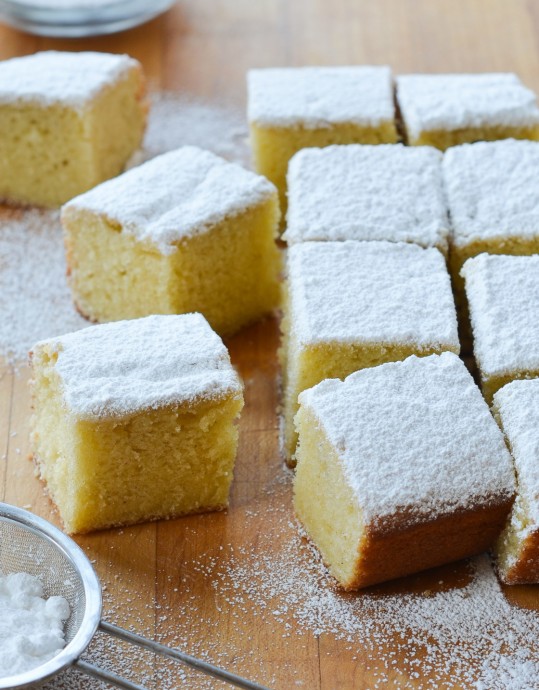 Heavy on the butter and nutmeg, this cake has all the flavors of your favorite cake donut in a convenient square shape—no frying necessary! Just take my word for it, and don't wear a black shirt when you eat it. You are definitely going to get confectioners' sugar all over yourself with every bite.
Aside from being a really fun phrase to say aloud over and over again, this loaf is the sort of taste sensation belying its appearance. I wish I had a dollar for every time someone has eaten this modest-looking cake and exclaimed with wonder that it indeed tastes like a giant powdered sugar donut.
This donut cake will be the hit of any brunch gathering. Or, when topped with candles, it makes a fun and clever surprise for a donut-loving birthday boy or girl. Although this dessert looks straight from the donut shop, the recipe itself is a moist and tender pound cake with added leavening, which gives the cake the cracked and craggy appearance of an old-fashioned donut.
Ingredients:
3/4 cup granulated sugar
2 large eggs
1 cup sour cream
1/2 cup (1 stick) unsalted butter, melted and slightly cooled
1-1/4 teaspoons freshly grated nutmeg
1 teaspoon vanilla extract
3/4 teaspoon kosher salt
1-1/2 cups all purpose flour, spooned into measuring cup and leveled off with a knife
1-1/2 teaspoons baking powder
1/4 teaspoon baking soda
FOR TOPPING
1 tablespoon unsalted butter, melted
3 tablespoons confectioners' sugar