Cookie Dough Cake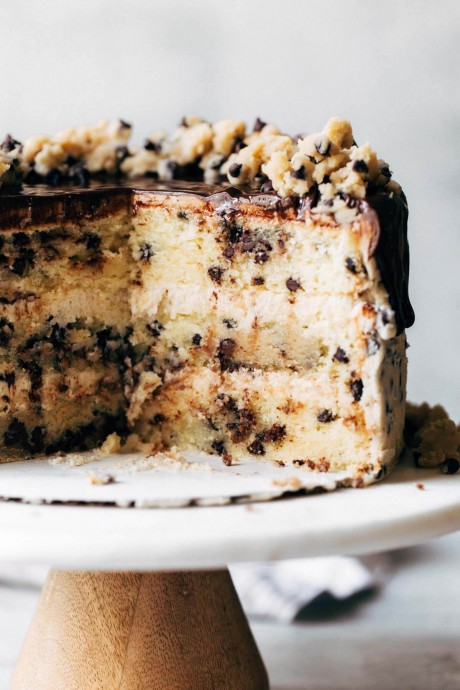 This cake is the ultimate cookie dough lovers dessert. This cookie dough cake has a sweet and buttery vanilla chocolate chip cake with globs of cookie dough baked into each layer. These 3 layers are stacked and smothered in cookie dough buttercream then doused in silky chocolate ganache. If you have a major sweet tooth, this cake is for you!
This cake is not for the faint of heart. It's rich, sweet, and comprised of a super rich and buttery cake and globs of cookie dough. But with that being said, it's the perfect cake to bake for special occasions because it is an absolute show stopper. No one expects cookie dough and cake to be in a single bite.
Bake the cake layers and allow them to cool in their pans for about 20 minutes. Then turn them out onto a cooling rack and allow them to cool at room temp for about an hour. Once they've completely cooled, wrap them in plastic wrap and store in the fridge for up to 3 days. With the remaining cookie dough, make sure to cover the bowl so it doesn't dry out in the fridge. Once the entire cake is assembled, transfer the cake to the fridge until it's ready to serve. It should keep in the fridge for up to 5 days before it starts to dry out.
Ingredients:
COOKIE DOUGH
1/2 cup (110g) unsalted butter, room temp
1/2 cup (100g) granulated sugar
2/3 cup (130g) light brown sugar, packed
1/4 cup (60ml) milk
2 tsp vanilla extract
2 cups (260g) all-purpose flour
1/2 tsp salt
1 cup (180g) mini chocolate chips
CAKE
1 1/2 cups (330g) unsalted butter, room temp
2 cups (400g) sugar
3 large eggs
2 tsp vanilla extract
3 cups (400g) all-purpose flour
2 tsp baking powder
1 tsp salt
1 cup (240ml) whole milk
1/2 cup (125g) 2% Greek yogurt (sour cream also works)
1 cup (180g) mini chocolate chips
COOKIE DOUGH BUTTERCREAM
1 1/2 cups (330g) unsalted butter, room temp
5 cups (550g) powdered sugar
1 cup (130g) all purpose flour
3/4 cup (140g) light brown sugar, packed
1/4 cup (60ml) milk
2 tsp vanilla extract
1/2 tsp salt
1/2 cup (90g) mini chocolate chips
CHOCOLATE GANACHE
4oz bittersweet chocolate, chopped
4oz (1/2 cup) heavy cream
2–3 tsp vegetable oil