Cheesy Hash Brown Casserole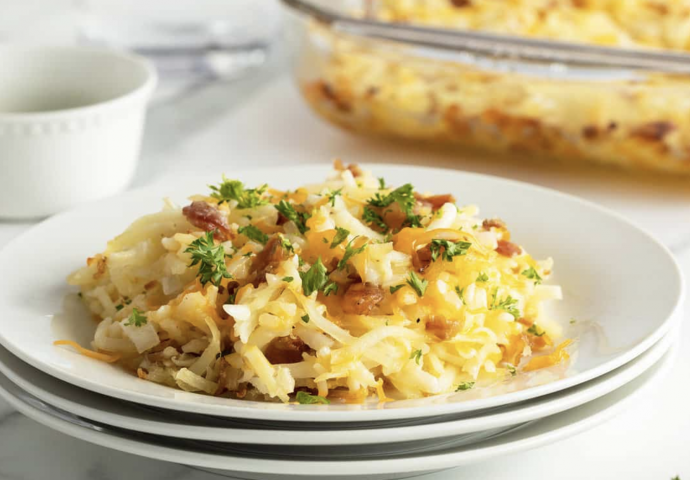 Elevate your brunch or potluck spread with Cheesy Hash Brown Casserole. This crowd-pleasing dish combines creamy hash browns, melted cheese, and a crunchy cornflake topping. With its comforting flavors and easy preparation, it's a go-to recipe for satisfying a hungry crowd. Whether you serve it for breakfast, brunch, or as a side dish, this cheesy casserole is sure to be a hit.
Hash browns are easily the ultimate breakfast food, but how could they become something more? With this unique casserole recipe, you will be able to enjoy has browns in a totally new way, and with a lot more cheese!
This cheesy hash brown casserole works great both as a breakfast side dish and as its own meal when served in a larger portion.
Cheesy, bacony, and super delicious, these are hash browns like you have never seen them before.
Ingredients:
One 16oz Package frozen shredded hash browns
4 slices cooked crispy bacon
¼ cup melted butter
1 small onion (diced)
½ teaspoon garlic powder
⅛ teaspoon salt (to taste)
⅛ teaspoon pepper (to taste)
¾ cup shredded cheddar cheese
½ cup grated Parmesan cheese
⅓ cup half and half cream
3 Tablespoons hard butter (chopped into small bits)