Mint Chocolate Cheesecake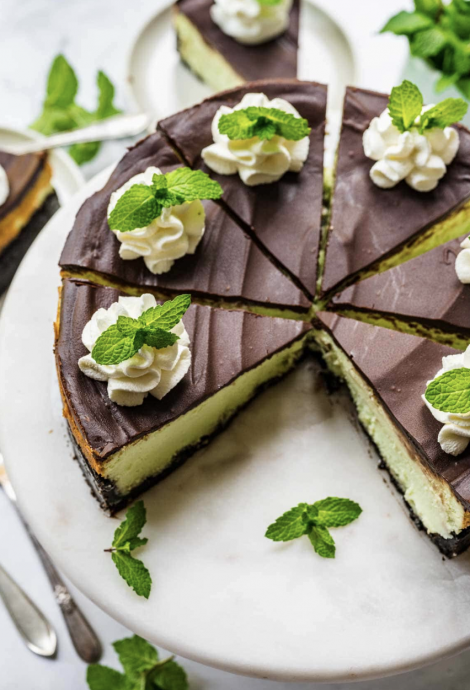 Mint Chocolate Cheesecake is a refreshing sweet treat with an Oreo crust, creamy, green mint filling, and a rich chocolate ganache topping.
Mint and chocolate are one of those dessert combos that just seem like they were made to be together. The mint gives the rich chocolate a fresh, wintery taste that's both sweet and cooling.
If you're a mint chocolate lover, then you're sure to adore this Chocolate Mint Cheesecake recipe. But the mint flavor isn't overwhelming, instead it's the perfect amount of freshness to balance out the rich creamy cheese filling and sweet dark chocolate topping. Even people who aren't usually the biggest fans of mint will love this beautiful cheesecake. You can also feel free to experiment with the amount of mint extract you add until you have the perfect amount for your taste. Just keep in mind that a little goes a long way with mint, so increase the flavor slowly.
Ingredients:
Oreo Cookie Crust:
1 1/2 cups Oreo Cookie crumbs
3 tablespoons sugar
3 tablespoons unsalted butter , melted
Cheesecake:
32 ounces cream cheese softened
1 1/2 cups sugar
3/4 cup whole milk
4 large eggs
1 cup sour cream
1/2 teaspoon mint extract
1/4 teaspoon green food coloring . or to taste
1/4 cup flour
Ganache:
1/2 cup semi-sweet chocolate chips
1/4 cup heavy cream
3 drops mint extract