Fig and Pig Pork Chops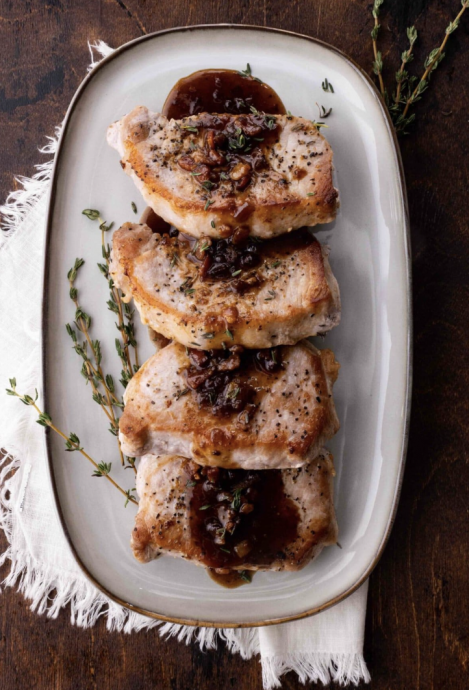 This delicious pork chops recipe has quickly become a family favorite. The savory and sweet flavors are a winning combination for all ages, so don't be afraid to serve it up to your family. Prepping the flavorful pork with the sweet and salty blend of figs, honey, and crispy bacon gives it a complex and irresistible flavor. It's the perfect way to dress up easy pork chops for dinner.
Along with how tasty this dish is, it's also oh-so-easy to make! After cooking the bacon, the pork chops only take 8-10 minutes to sear on the stovetop. It's a fantastic method to make pork, because you just add the chops to a skillet, cook for a few minutes, and flip to finish. It honestly couldn't be easier. Then you just whisk together the amazing sauce, cook until it's thickened, and drizzle it over the chops before serving.
Ingredients:
4 slices bacon , thick cut, diced
4 pork chops , boneless loin
1/2 teaspoon kosher salt
1/4 teaspoon coarse ground black pepper
1 cup chicken broth
1 cup fig preserves
2 tablespoons honey