Wilted Spinach Salad with Goat Cheese, Hazelnuts, and Raisins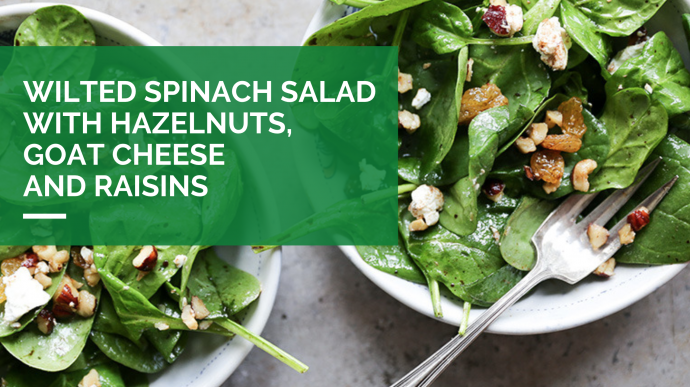 In summer, it's a great idea to up your vitamin intake by serving more leafy greens and vegetables. This wilted spinach salad is rich in vitamins and flavor thanks to toasted hazelnuts, goat cheese, golden raisins and a balsamic vinegar dressing.
Wilting fresh spinach leaves just slightly is a really nice alternative to serving them utterly raw. Here, the wilting is done by dressing the leaves with heated oil, which cooks them slightly upon contact, tenderizing them perfectly. The oil is spiked with garlic and hazelnuts for flavor and texture, beautifully balanced by creamy-tangy goat cheese and the subtle sweetness of golden raisins. As you can see, this is a salad with no separate dressing. Instead, the dressed salad comes together as you go, right in the bowl. Once assembled, this salad doesn't keep well, so aim for putting it together just before serving. You can peel the garlic and chop the nuts well ahead of time, making the final preparations very quick.
Ingredients
Two 6-ounce bags (¾ pound) baby spinach leaves, washed and well dried
4 to 5 tablespoons olive oil
1 cup coarsely chopped hazelnuts
1 teaspoon minced garlic (about 1 good-sized clove)
1/8 teaspoon salt
3 tablespoons golden raisins
1/3 cup crumbled goat cheese
3 tablespoons balsamic vinegar or red wine vinegar
Freshly ground black pepper
Directions
Step 1
Place the spinach leaves in a large bowl. Break them into bite-sized pieces, if necessary, and remove the stems (or not, depending on your preference).
Step 2
Pour the olive oil into a medium-small skillet and place it over low heat. Add the hazelnuts and cook, stirring intermittently, for 5 to 8 minutes, or until they begin to turn golden. Add the garlic during the last minute or so, cooking it slightly but not "frying" it. The trick to making this salad so flavorful with such a short list of ingredients is heating the olive with the hazelnuts and garlic, which helps to bring out and enhance the flavors and aromas.
Step 3
Drizzle this hot mixture directly over the spinach, scraping in as much of the oil as you can. (You can also toss some spinach back into the hot pan, stirring it around to swab up any extra oil left behind.) Use tongs to toss the spinach until it is completely coated with the oil, and the nuts and garlic are well distributed. Sprinkle with the salt as you toss. Add the raisins and goat cheese, and mix well.
Step 4
At the very end, sprinkle in the vinegar and toss until it is thoroughly distributed. Serve immediately, passing a pepper mill.
Tips & Ideas
Use a high-quality olive oil for more flavor.
Use a good wine vinegar, one that is infused with fruit (such as raspberry vinegar), or cider vinegar.
Add a thinly sliced medium-sized tart green apple along with the raisins and cheese.
Slice 2 strips of bacon. Brown these in a small skillet over medium-high heat until they are crisp and nicely browned. Drain them on a paper towel and add them to the oil along with the garlic.
Chop a hard-boiled egg and sprinkle some over each serving—especially good if you're adding bacon.
Top each serving with a still-warm, freshly poached egg—also fabulous with the addition of bacon.
Slice a small, perfectly ripe avocado and lay slices over each serving as a garnish.
Use 3 tablespoons dried cherries or cranberries instead of, or in addition to, the raisins.
Substitute pumpkin seeds or coarsely chopped almonds or walnuts—all lightly toasted—for the hazelnuts.
Make this vegan by omitting the goat cheese.
Bon Appetit!